As Myntra goes app-only from this Friday, rivals say it may be too early and risky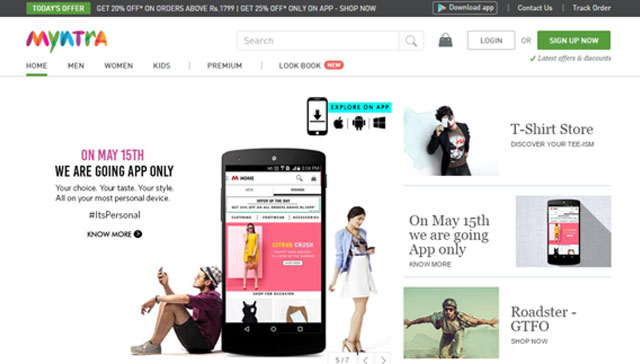 Leading fashion e-tailer Myntra Designs Pvt Ltd's strategy to go mobile app only has a few takers in the industry. Myntra's rivals and other e-commerce companies are not in a hurry to adopt an app-only approach.
Most e-commerce companies VCCircle spoke to said it's too early to take an app-only route. They say multiple methods of shopping means more shopping and thus more sales in today's market scenario.
So tying the customer down to just one access route only is not really a customer friendly step.
Early this week, Myntra announced its plans to go app-only from this Friday saying it would ensure more personalised experience for customers.
Their argument is the conversion ratio may increase if it's through an app as they get more serious shoppers on the app against several 'window' shoppers on the web.
But naysayers argue that apps do not find a permanent place in a customer's mobile phone. Users keep uninstalling apps depending on their immediate requirements as the mobile phone storage space is mainly taken up by media like music, photos and games. So it is not wise to limit oneself to a single window of shopping, they say.
Radhika Aggarwal, co-founder and chief marketing officer, Shopclues, a leading e-commerce portal with most of its customers coming from small towns, said it's "too early" for the firm to go app-only.
"Our customers are middle class people. They generally have smartphones with a storage base of 8-16 GB. On an average, they keep not more than four to six apps at a time including social media, games and shopping apps. They also keep uninstalling apps based on their needs," Aggarwal said.
The company gets 55 per cent of its traffic from mobile app while the rest still comes from the website.
According to Ambareesh Murty, co-founder and CEO of furniture e-commerce portal PepperFry, while one company's strategy is different from others, it still doesn't make sense for a startup to limit itself to just one access window and shut down all others for their customers.
"Customers engage with your brands through various channels—be it laptop, tablets, browsing on mobile phones or apps. I do not see us choosing any one channel and shutting down others. Our aim is to interact with customers as much as possible and irrespective of the channel. At the end of the day, it is customer's choice and we respect that," he told Techcircle.in.
He said furniture is a segment of large-sized products. Customers like to see a product in an aspect ratio which is larger than that of a mobile phone. They want to see large images. Mobile alone cannot address this requirement.
In fact, for Pepperfry, barely 20 per cent of the overall transactions of the company happen through mobile, Murthy said.
Praveen Sinha, managing director of Rocket Internet-incubated lifestyle e-tailer Jabong.com, shares Murty's view. Sinha said this is not the right time yet to make any such move. "In today's scenario, the aim is to provide choice to consumers. Any such move would amount to killing the customer base," he said.
"Industry estimates show that there is still about 50 per cent of the demand originating online. So, we would not consider any such move in the next two years," he added.
Meanwhile, Myntra has high expectations from this move. The company, which claimed to do $400 million annualised GMV currently, plans to become profitable by 2016-17.
When asked if the move could backfire, Mukesh Bansal, co-founder and CEO of Myntra, said at a recent press conference that he would not expect to lose customers due to this shift in sales strategy. "We expect our market share to go up in the next six months. Simple reason is consumers are asking us to do this," he said.
He said close to 95 per cent of traffic and 70 per cent of sales come through mobile devices for the company.
There are also those who support this strategy. For instance, Shailesh Vikram Singh, partner of early stage investment firm Seedfund Ventures, said it is a bold move and a right strategy, "As mobile apps are contributing to maximum growth, it is just focusing on the right wave."
India is the second-largest smartphone market globally with the number of smartphones expected to reach over 650 million in four years from 140 million in end 2014, according to a study released early this year by networking solutions giant Cisco.
The number of tablets is also expected to grow almost 10 times between 2014 and 2019, to 18.7 million from two million devices currently.
On the other hand, personal computer sales are in a declining trend. PC sales in India during calendar year 2014 came down by 16.5 per cent to 9.6 million units from 2013.
The statistics and trends may favour a smartphone strategy, but it's for the customer to decide what device he/she should use to access an application.
Comment(s)