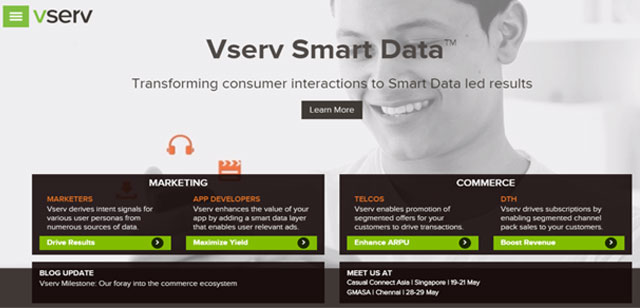 Mumbai-based mobile marketing company Vserv Digital Services Pvt Ltd has entered mobile recharge business by launching a commerce platform for telcos and DTH operators.
Vserv's platform will help telecom operators and DTH providers discover and identify the right users, engage users with segmented offers, allow transactions and even enable quick activation of the service.
Betting big on the new initiative, Dippak Khurana, co-founder and CEO, Vserv, said that in next 12 months the company expects to see the commerce business becoming bigger than its marketing business. Today, 100 per cent of its revenue is generated from mobile marketing.
Vserv had raised $15 million (Rs 91 crore) from hedge fund Maverick Capital Ventures and existing investor IDG Ventures in March 2015. It had previously raised $3 million from IDG Ventures and Epiphany Ventures.
The platform, according to the company, can identify the right users based on the apps or websites they often visit and spend time on, and show segmented offers to them.
For example, the solution will show a 3G pack to a 2G customer, will try to sell an international roaming pack to a user who visits foreign countries often, or a college student will be shown a night data pack.
Users can see the list of these options while they are on the application, select the offer, and make the payment without having to get out of the application they are on. The solution will also instantly activate the service.
For DTH operators, this translates into selling segmented channel pack which the company claims can increase their subscriptions and revenue.
The Vserv commerce platform has already gone live on Airtel and Airtel DTH. The company is in discussion with three other leading telecom operators and a number of DTH providers and is expected to host its service on a number of players shortly.
"Vserv started off as a mobile marketing company and overtime, we gained significant data and insights about mobile users. Now, we reach out to almost 120 million mobile internet users in India. We were so far leveraging this opportunity for the purpose of marketing, which we are extending into the transaction space," Khurana said.
The company was founded in January 2010 by Khurana, along with co-founder Ashay Padwal. Khurana has previously worked at People Group across various positions before quitting as business head - content & international operations. He had also worked at Yahoo India, Intercept Technologies, India Today and Bennett Coleman & Co Ltd. Padwal had worked at People Group and Yahoo besides eMediCare Services and Mega E Services.
---