Tech platform Constapark aims to reduce car parking woes; targets seed funding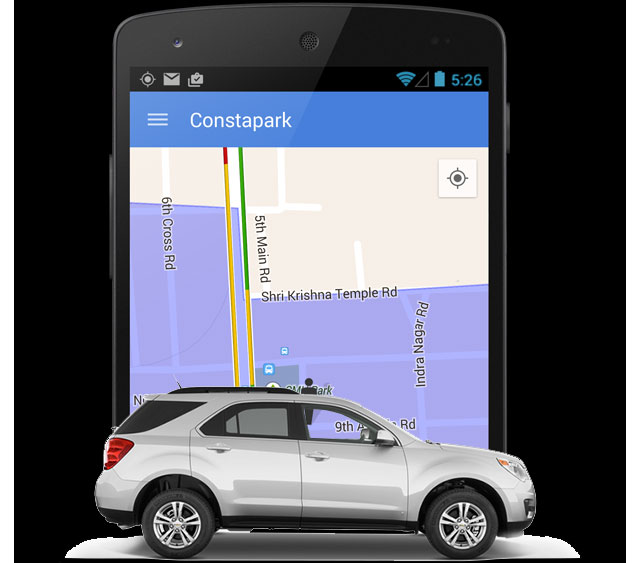 Imagine going to a busy shopping street on a weekend without the headache of finding a parking spot for your car. Wouldn't it be ideal if a trained driver offered to park your car in a safe zone and assured to get it back when you are done for the evening?
The everyday problem of city parking has become the driving force behind Constapark, an app developed by Kodikas Technology Pvt. Ltd. Founded in 2013, Bangalore-based Kodikas is the brainchild of 27-year old technology professionals Chetan Chauhan and Mehul Pangtey.
"I am among the many people who are averse to driving on weekends in Bangalore and prefer to hail an auto rickshaw instead," Chauhan said.
"Hence, we decided to build a cashless technology platform that will make parking a pleasant experience. We believe that we are India's first on-demand valet parking service," he added
Constapark is an app-only platform that frees users from the hassles of finding a parking slot in congested area. Users can use the Constapark app to co-ordinate with valet drivers for picking up the car for parking. The valet driver would ensure parking in a secured zone for a fee and bring it back when required.
As per the IBM Global Parking Survey, up to 50 per cent of traffic in congested areas is comprised of people looking for a parking space. In Delhi alone, 58 per cent of drivers fight over parking every day. The parking market in India is estimated to be worth over Rs 1800 crore, growing at an annual rate of 30 per cent.
Currently, Constapark charges an average price (either through credit card or Paytm valet) of Rs 70 for the first hour and Rs 35 for each subsequent hour in Bangalore's Koramangala and Indira Nagar areas. Conventional pay-and-park establishments in Koramangala are said to charge Rs 50 per hour. The company has tied up with pay-and-park operators and has a valet staff of 4 persons. Constapark is also in discussions with six Bangalore-based restaurants to help them place customers' cars during peak hours.
"We are exploring two models with the restaurants, namely, manpower support (where in Constapark provides the valet staff) and call-based support. Restaurants know that their clients get frustrated if they don't find parking place nearby and hence they are excited to partner with us," said Chauhan.
Going forward, the company also wants to provide over-night parking management (for car owners who lack parking space) and offer food ordering as a service to its customers. Kodikas will soon add Delhi and Mumbai to its network, in addition to strengthening presence in Bangalore. With every new location that the company adds (like MG Road in Bangalore or Churchgate in Mumbai), 2-3 new new valet drivers will be engaged.
In line with its expansion plans, the promoters are actively scouting for seed funding of about Rs 0.7 crore. The funds will be utilised for strengthening Constapark's technology back-end and to expand its reach into other cities. Also on the cards is an IoS app, in addition to the Android version that is currently operational. "We have already pitched to a group of angel investors," Chauhan said.
Despite being a startup, Kodikas has already changed its engagement model once. In 2013, the firm was an advanced parking booking provider, which meant allowing customers to directly block parking inventory before they ventured out.
The problem with this model, Chauhan says, was that patrons never reached on the pre-agreed time because of the city's traffic conditions. This turned out to be a logistical challenge for the 8- member company. Other app-based firms such as Pparke and Parkingwala operate on a relatively similar model.
Effective January 1, 2015, Constapark has morphed itself into a valet parking services firm. Under this model, the company deploys its resources to park customers' cars.
Does the new model cut ice with investors?
"(It) looks an interesting concept with an innovative business model. I would be interested to invest if features such as GPS tracking, picture upload of the car parked, ability to hire valet at airport, service of driving back empty car to home from airport and others are added. Parking is a pain point which if addressed rightly can open a huge market," said Sanjay Mehta,a serial entrepreneur turned angel investor.
For the promoters of Constapark, the shift was relatively seamless, partly because of their own entrepreneurial backgrounds. Pangtey has co-founded a social media and marketing services start-up. He has worked with three startups across diverse fields such as e-commerce, mobile platform and visual computing. Chauhan himself is the co-founder of Easel Studios, a visual content development company.
Comment(s)