Naukri parent Info Edge's profit more than doubles, buoyed by one time gain; revenue up 25% in Q4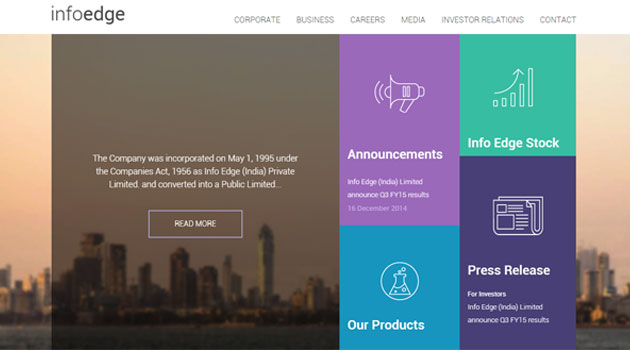 Info Edge (India) Ltd, which runs a slew of internet properties such as Naukri, 99acres, Jeevansathi and Shiksha among others, has reported a standalone net profit of Rs 82.18 crore for the quarter ended March 31, 2015 compared to 33.6 crore in the year ago period.
The jump in profit was partly due to an exceptional item related to gains from transfer of shareholding of associate firm PolicyBazaar into a subsidiary and boost from 'other income'. The company has been enjoying the benefits of dividend income from mutual fund investment etc to prop up its bottom-line for the past many years.
Indeed, the company is also sitting on unutilised resources from its qualified institutional placement last year where it raised around Rs 750 crore. As of March 31, 2015, it was yet to use Rs 729 crore out of this.
Excluding the impact of extraordinary gain and other income, the firm's profit from operations rose around 34 per cent compared to Q4 FY14. The company's net sales rose 25.4 per cent in the same period to Rs 173.1 crore.
"On a year-on-year basis, 99acres.com grew by 33 per cent while our recruitment business expanded by 25 per cent. Moreover, we were also able to control costs," a company spokesperson said.
On a sequential basis the net sales rose 18.7 per cent while profit from operations (excluding other income and one time gain) rose 61 per cent compared to the quarter ended December 31, 2014.
For the full year, standalone net sales increased 21 per cent to Rs 611.5 crore while net profit rose 50.8 per cent to Rs 193.86 crore compared to FY14.
Standalone results of the company include revenues from its primary recruitment business Naukri.com, Jeevansathi.com, 99acres and Shiksha.com.
It does not factor in financial performance of its subsidiaries- Naukri Internet Services Pvt Ltd and Jeevansathi Internet Services Pvt Ltd (which own Internet domain names of Naukri.com and Jeevansathi.com, respectively, as well as related trademarks, while operations are under the parent company), Allcheckdeals, Applect (Meritnation.com) and Zomato.
Consolidated net sales of the firm rose 29.4 per cent to Rs 732.49 crore (faster than standalone business) but its net profit skid from Rs 89 crore to Rs 24 crore. Some of the subsidiaries, such as Zomato, are on a fast growth path and are some way from breaking even. The firm also has investments in PolicyBazaar, MyDala, Canvera and Happily Unmarried, where it owns minority stakes.
The company's share price rocketed over 5 per cent on BSE to end the day at Rs 817.05 a unit, in a strong Mumbai market on Friday.
Comment(s)