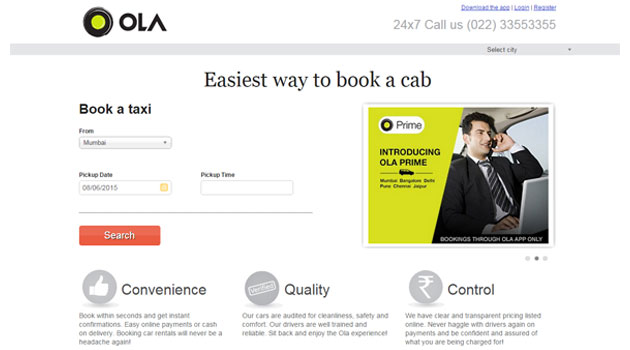 Online cab hailing service Ola (formerly Olacabs), run by Mumbai-based ANI Technologies Pvt Ltd, is piloting a new app called 'Ola Store' for delivering groceries and daily needs to customers.
Ola, which is supported by Japan's SoftBank, has emailed some of its customers to try out the app.
"As a premium Ola customer, we are inviting you for a sneak preview of Ola Store, our brand new service with which you can shop for all your grocery needs," the Ola email said.
The select customers are also being offered 50 per cent discount on their first order.
The email contains a link to the Google app store, which only works if a user has been invited for beta testing. According to a report in Yourstory, the app is currently available for users in Bangalore and orders totalling less than Rs 300 will attract a delivery fee of Rs 50.
The Ola Store would offer a range of products including groceries, fruits, vegetables and dairy products in addition to health supplements, medicines and electrical appliances.
In March, the company had launched 'Ola Cafe', its food ordering and delivery service in parts of Bangalore, Hyderabad, Delhi and Mumbai.
Ola's interest in the online grocery space became evident in April this year when it floated a job ad in job search site Babajob seeking delivery staffers with 'bikes'. Its job ad indicated that the company would give the option of two shifts, one starting by 7 AM and the other ending by 11 PM. Techcircle.in had reported this development on April 28.
The online grocery and delivery market has been witnessing increased investor interest for some time now. Techcircle.in had recently reported that PremjiInvest, the private investment arm of Wipro chairman Azim Premji, is in discussions to lead a $50 million (Rs 312 crore) Series C investment round in Bangalore-based BigBasket.com. On the other hand, Bangalore-based ZopNow raised $10 million (Rs 61 crore) from Dragoneer Investment Group with participation from the existing investors Accel Partners, Qualcomm Ventures and Times Internet in April.
Grofers, PepperTap and LocalBanya are the other players to have recently secured funding.
All major horizontal e-commerce players have also evinced interest in the Indian online grocery space. While Flipkart is expected to start selling groceries from the middle of this year, Snapdeal has tied up with gourmet food retailer Godrej Nature's Basket to sell about 400 of its products online. Amazon is testing local deliveries with neighbourhood grocers as partners on its marketplace (starting with Bangalore). Recently, Paytm's parent company One97 Communication launched a new app named Zip to connect users to both offli
Meanwhile, a Reddit user by the name TeamUnknown claimed to have hacked into Ola's systems and has posted the database structure of the company online. "Their Application design is very poor and their development server is weakly configured. The hack was a little tricky and involved many steps to get to the database. Once we got to the database it was like winning a lottery. It had all the user details along with credit card transaction history and unused vouchers. The voucher codes are not even out yet. It's obvious that we won't be using credit card details and voucher codes," the hacking team said. TeamUnknown said that they have tried to contact Ola on the hack without much success.
In support of their claim, the hacker group has uploaded a number of screenshots of the hack.
On its official Twitter account, Ola said: "The alleged hack seems to have been performed on a staging environment when exposed for one of our test runs. The staging environment is on a completely different network compared to our production environment, and only has dummy user values exclusively used for internal testing purposes. We confirm that there has been no attempt by the hackers to reach out to us in this regard. Security and privacy of customer data is paramount to us at Ola…" the company added.
Ola, which competes with Google-backed Uber, had recently raised $400 million (over Rs 2,500 crore) in its fresh round of funding led by Russian investment firm DST Global, which valued it at around $2.4 billion (Rs 18,000 crore).
---