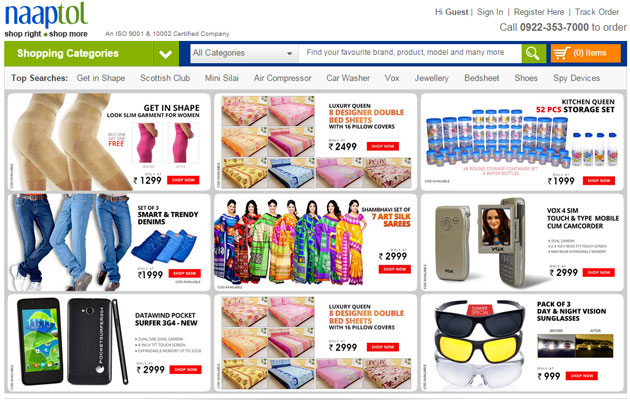 Riding high on a fresh capital injection of Rs 136 crore, TV shopping and e-commerce platform Naaptol.com is gunning for international markets such as Bangladesh, Nepal, Sri Lanka and parts of West Asia.
The company, which went through a tough phase recently, has already started initial trials in these countries. Naaptol, which is operated by Naaptol Online Shopping Pvt Ltd, expects overseas operations to be underway in the next six months, Manu Agarwal, founder and CEO, told Techcircle.
"We have already signed up with vendors and distributors in the international markets to get products into these countries. Once we have absolute control over the whole value chain, we would potentially take up media in these countries and expand," he added. Recently, Naaptol raised Series C funding of Rs 136 crore from Japanese conglomerate Mitsui & Co along with existing investors New Enterprise Associates, Canaan Partners and Silicon Valley Bank. Mitsui has invested almost half the amount in this round, taking under five per cent stake in the company. In 2011, Naaptol had mobilised $25 million inSeries B funding, which led by NEA. This was followed up by a top-up round of $7 million in 2013 from existing investors.
Launched in January 2008, Naaptol is a comparison-based social shopping portal. It has recently launched a 24- hour dedicated TV channel named Blue and has entered into partnership with leading MSO Hathway to launch Hathway Shopee. A major portion of its revenue comes from the television platform and most of its customers are from Tamil Nadu, Andhra Pradesh and Maharashtra.
Naaptol will spend the Series C funds to improve programming capabilities, set up new studios, launch more products and for live content on TV. It also plans to invest significantly on specific marketing campaigns for brand strengthening. A substantial portion of the investment will also go into automation of the fulfillment centers in addition to enabling faster dispatch and quick delivery of products.
"We are building new, larger studios where we can produce programs on 10-20 products a day," he claimed.
The company went through a rough patch last year when it was pulled up for allegedly false advertising by Advertising Standards Council of India (ASCI) in May 2014. A few months later, its bank accounts were frozen after the company failed to pay Value Added Tax (VAT) on the sale of third party goods. Agarwal said the controversies had no impact on the company. "Yes, there was an issue with one of our commercials. So, when we identified it, we dropped the creative the next day, did the amendments as per the ASCI guidelines and restarted the commercial. It didn't affect our business at all. In fact, it created more hype for the business in some ways."
The VAT issue, Agarwal said, was a pending litigation with the state VAT department.
"We approached the court on the same day and all of our accounts were unfrozen immediately. There was again no adverse impact on our business. VAT related issues were nationwide phenomena, not just with Naaptol," he said.
In hindsight, Agarwal says that the company should have invested more of its Series B money into improving programming capabilities. Rather, the capital from that round was primarily deployed to support Naaptol's massive hiring plans and for investments in its internet business, supply chain and inventory.
Agarwal claimed the company is operationally positive and close to break even. It registered a year-on-year growth rate of over 60 per cent. The company also claims to have made commission revenue of Rs 165 crore in fiscal 2013-14 and Rs 345 crore in fiscal 2014-15. The company is booking orders worth about 4.5 core every day.
Even as e-commerce grows exponentially , India's TV home shopping industry has been steadily flourishing. The TV home shopping industry is a much smaller one in comparison to the ecommerce market which is expected to be worth $100 billion by 2020.
However, the TV shopping market is poised to grow since 650 million people have access to cable and satellite as compared to the number of internet users, which stands at 302 million.
According to consulting firm Media Partners Asia (MPA), TV home shopping market has grown at 40-50 per cent year-on-year and generated gross merchandise volume (GMV) sales of Rs 3200 crore last year. This year the industry is expected to generate between Rs 4500-5000 crore in GMV.
The top three players, namely HomeShop18, Naaptol and Shop CJ collectively have 85 per cent revenue share.
The other prominent players in the market are India Today group's Bag It Today, HBN Telebrands, business entrepreneur Raj Kundra's Best Deal TV ( launched in partnership with Bollywood actor Akshay Kumar), Planet M Shopping and TVC Retail. In addition, e-commerce giant Snapdeal recently entered into a 50:50 joint venture with cable distribution platform Den Networks to launch a television channel Den-Snapdeal TV Shop.
"Home shopping continues to grow worldwide. It is the most profitable retail format today. Although home shopping is just about 10 per cent of the ecommerce in terms of the market size globally, the difference is that home shopping has higher margins. It's a market where not just the top player survives, but there would always be 4-5 players who would dominate the space," Agarwal said. His next target is to make Naaptol the number one player by dethroning HomeShop18. "With the latest round of investment, we are aggressively ramping up our programming capabilities and also increasing our media reach. I am pretty confident that by the end of this current financial year, we will take that number one spot," Agarwal claimed.
---