Online P2P lending marketplace Faircent raises $250K from Singapore-based M&S Partners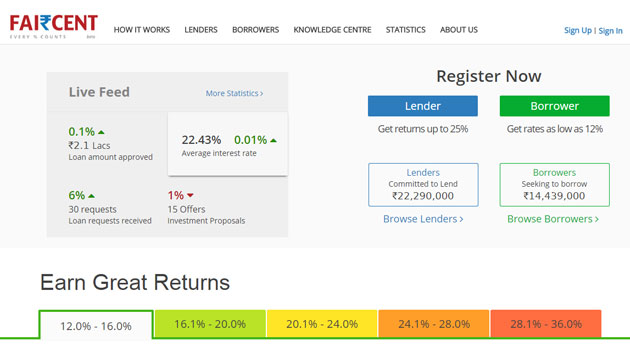 Fairassets Technologies India Pvt Ltd, the company behind peer-to-peer lending marketplace Faircent, has raised $250,000 (Rs 1.52 crore) in its pre-Series A funding round from Singapore-based M&S Partners Pte. Ltd.
The deal values the Gurgaon-based company at $8 million (Rs 50 crore), as per a press statement.

Faircent would use the money to strengthen technology, expand talent base and increase brand building.
"Our biggest success is in unlocking the retail lending side, which till now has been untapped and unheard of in the country," said Rajat Gandhi, co-founder and CEO, Faircent.
In January, the company had secured an undisclosed amount in angel funding from Devesh Sachdev and Ashish Tiwari, promoters of Fusion Microfinance Pvt Ltd. That deal valued Faircent at $4 million.

The company, which started operations last July, is a peer-to-peer lending site that caters to those seeking both retail and business loans. It has been developing a proprietary technology-enabled credit appraisal and borrower rating system in India.
Faircent says it follows a certain format that allows it to keep institutional charges at a bare minimum and it passes on this benefit to users. The firm claims that it helps eliminate the high margins that banks and financial institutions make on financial transactions.
Users can interact directly with fellow borrowers/lenders, negotiate terms and conditions about interest rates, tenure of loans, etc, and strike a deal on his/her own, without any intervention/imposition from Faircent. The user pays a listing fee to Faircent.

"Over Rs 80 lakh of loan offers are being made by lenders every month on the platform through an open bidding model," said Vinay Mathews, co-founder and COO of Faircent.
Faircent claims that in the first nine months of operations, it has already registered lender commitment of Rs 2.2 crore and loan demand of over Rs 1.4 crore.
The startup was founded in 2013 by Gandhi, along with Mathews and Nitin Gupta. Gandhi has over 17 years of experience, of which 13 years have been in the internet space. Prior to co-founding Faircent, Mathews had served as country head (sales and service delivery) at Timesjobs. Gupta has served as senior positions at MasterCard, GE Capital and Rediff.com and was a non-executive co-founder of LetsBuy, an electronics e-tailer that was acquired by Flipkart in 2012.

M&S Partners provides advisory services for finance, IPO, M&A, operations, marketing, business development and global business expansion. Its founder and CEO Hiro Mashita advises newly set-up and growth stage companies in Japan, China, Singapore and other Asian countries besides the US.
Mashita was previously head of VC, business development and internet businesses at Tokyo Stock Exchange-listed Hikari Tsushin Inc.
The transaction materialised following Faircent's participation in the InnoTrek delegation, an initiative of IT industry body NASSCOM's 10,000 Startups Programme.

---