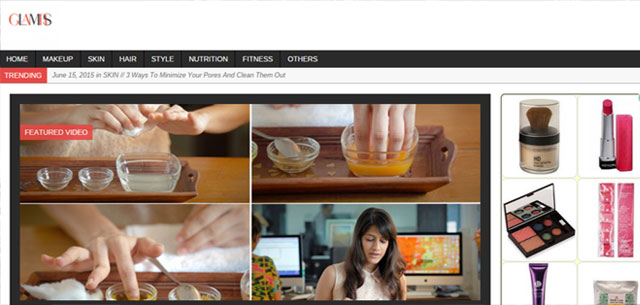 Newgen Internet Networks Pvt Ltd, which owns and operates video content platform Glamrs.com, aims to have 30 paying customers by the current year-end.
The platform, which offers fashion content free of cost to the viewers, wants to join hands with online retailers and other companies for its paid services, Naveen Sadarangani, co-founder of Glamrs, told Techcircle.in.
It is also exploring with the option of freemium pricing, which refers to practice of offering a basic set of services for free, and enhanced features for a fee.
It currently has almost 'half-a-dozen' paying brands on its platform, including the likes of L'Oreal, Maybelline and Nykaa.
The company, which recently raised $1 million in a Pre-Series A round led by Ventureworks India, plans to raise up to $10 million before the end of financial year 2015, Sadarangani said.
He however did not clarify if the entire amount will be raised in Series A round or will be segregated into multiple rounds.
"We are still to ascertain that part," Sadarangani said.
"We are interested in investors who come with an appreciation for prospects and business strategy in the digital video space," he added.
This money will be utilised in expanding the production capacity including studio space and equipment besides boosting data analytics, building intelligence around audience and brand building.
The company declined to talk about the revenue numbers. However, Sadarangani said that Glamrs was growing its month-on-month revenue by over 20 per cent over the last 12 months and that its target is to grow 4x in the next 12 months.
Founded by Naveen Sadarangani and Zubin Sarkari in 2012, Glamrs is a digital video platform, reaching and engaging young Indian women with original and curated video content covering makeup, hair, style, fitness, skincare and nutrition.
A graduate of the London Business School, Sadarangani is an entrepreneur and angel investor. He has invested in Vizury.com and was founder angel investor in Cleartrip.com. He is also a board member at Tripvillas.com
Zubin has graduated from MIT, Boston and worked at New York-based Videofashion. He was also the event director of Lakhme Fashion Week in India.
The company also works with a pool of experts who participate in the content. In addition, it curates relevant videos from all over the world.
According to Glamrs, beauty (hair, makeup, skin) and style are the two most popular categories on the platform. Health and nutrition are a close second.
It claims that over 80 per cent of traffic comes from the mobile platform. Glamrs aims to luanch a mobile app shortly.
The company currently has 15 employees and plans to take the headcount to 60 in the next one year. It currently has one office in Mumbai and plans to set up offices in Delhi and Bangalore.
Glamrs claims to have produced a bank of over 500 original videos so far.
---