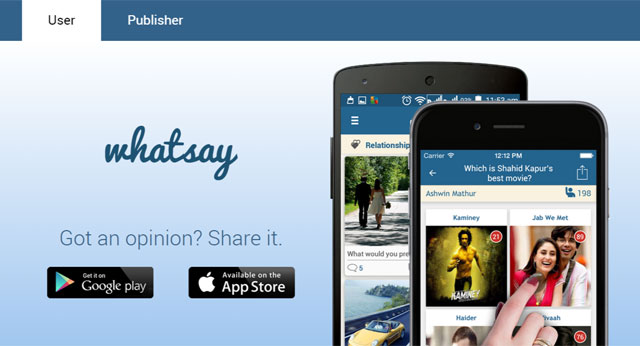 Hyderabad-based startup Neuv Pvt Ltd has launched what it claims to be India's first-ever social polling app, 'Whatsay'.
The app, which allows users to create and share visual polls with friends on social media sites, aims to achieve one million downloads in a year, said Raghu Bathina, the company's co-founder.
"We wanted to make polls ubiquitous. Just like we share photos or videos, people should be able to share polls on the internet. Whatsay is the perfect mobile companion for Facebook, Twitter and WhatsApp," Bathina said.
The ultimate goal of this startup, which was founded by Bathina and Sridhar Gadhi in September 2014, is to make Whatsay a brand marketing tool. While the current focus is customer acquisition, eventually it plans to introduce in-app contextual advertising as a revenue generator
Bathina is a serial entrepreneur from San Francisco who sold two of his previous ventures Ramp Networks and QuickTree to Nokia and Citrix respectively.
Quicktree was a software developer focused on improving performance and security for XML and web services. Ramp Networks provided internet security and broadband access solutions for the small office and enterprise remote office segment.
Gadhi, a first generation entrepreneur, is the CMD of Paradigm Group, which had incubated Neuv with seed capital of Rs 2 crore.
The startup also plans to expand internationally later this year. It would then compete against the likes of polling apps such as Straw, Loop, Thumb, Rudder, MicroPoll, and PollDaddy. In line with its expansion plans, Whatsay is looking to raise another $2 million in six months' time
Would investors be interested in a company that runs a social polling app?
Entrepreneur turned serial investor Sanjay Mehta, who currently has positions in over 30 startups, says that stickiness can be a major challenge for a polling app.
"I do not find it exciting. Polling should be converted into quick surveys based on the response, analytics and user demographics. Contextual replies to surveys can make it an exciting product but a stand alone polling app is not investment worthy," Mehta, whose portfolio includes names such as Zippr Smart Address, AllizHealth, Prettysecrets.com, Poncho (Box8.in) and others, said.
Even internationally, the market for social polling apps is nascent without a clear market leader yet, industry watcher say. Moreover, social polling cannot be seen as an alternative to scientific polling.
Whatsay users can create both public and private polls across 25 categories. Users can also choose the 'Nearby' option where in people in the vicinity can see the poll or 'National' option wherein the poll can be viewed by Whatsay users across the country. The app, which is available on Google Play Apple's App Store, also allows users who dont have the app to participate in a shared poll.
Techcircle reviewed the Whatsay app and found that user can also up-vote and down-vote a poll. Moreover, users can also comment on the polls. A pie chart is used to explain the share of votes. Once a user creates a poll, it will go through an approval process following which the poll will appear on Whatsay. However, users can access the poll from their profile. Polls can be shared on Facebook, Whatsapp, Twitter and Gmail.
---