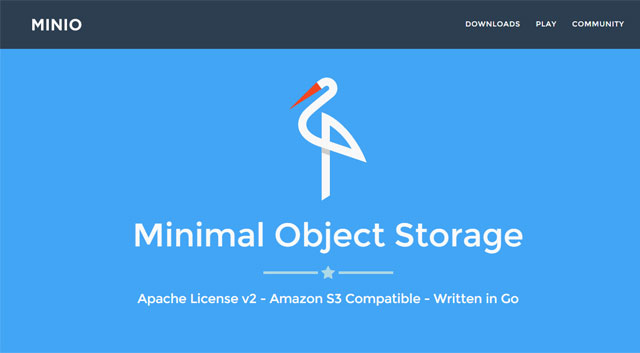 US-based Minio, an open source-based cloud object storage startup built by Gluster co-founder Anand Babu Periasamy, has raised $3.3 million in seed funding from General Catalyst, Nexus Venture Partners and others.
Yahoo co-founder Jerry Yang's AME Cloud Ventures, Index Ventures, Mark Leslie, Brian Stevens, Ben Golub, Lanham Napier and Andrew Feldman also participated in the seed round.
Object storage addresses the challenges associated with the storing of unstructured data within cloud storage, large archives, media repositories and web data-stores. Minio Inc, which runs Minio, seeks to build object storage in the open source community.
Minio will use the money to develop various aspects of the object storage project such as Minio Server, Minio Client and Minio Libraries, the company said on Wednesday.
"The name Minio stands for minimal object storage and derives from our belief in the philosophy of minimalism. To store 80 per cent of the world's data, users need only 20 per cent of the storage functionality. As counter intuitive as it seems, scalability and operational ease start with reduction and simplicity," said Periasamy, who is also CEO of Minio.
The project is seen as a potential alternative to Amazon S3 (Simple Storage Service), an online file storage service offered by Amazon Web Services.
Founded in November 2014 by Periasamy along with Harshavardhana, Frederick Kautz and Garima Kapoor, Minio enables application developers to build their own cloud storage and scale up their user base. The company claimed that it can simplify storage and enable application developers to include object storage with their application stack, akin to Node.js, MongoDB and Cassandra.
Periasamy's previous venture Gluster, a developer of software for building scale-out storage solutions, was purchased by Red Hat in 2011 for $136 million.
"Abstracting out technology sophistication into elegant simplicity, minimalism and user delight have been the cornerstone of Periasamy's entrepreneurial efforts. He had done that successfully with his previous startup Gluster that we were thrilled to have partnered with. He is doing that again with Minio, which we are again thrilled to be backing. Minio has the potential to redefine cloud storage, the way we know it," said Jishnu Bhattacharjee, managing director, Nexus Ventures. Gluster was founded in 2005 by Periasamy and Hitesh Chellani.
Although it is an India-focused VC firm, Nexus Venture Partners also invests in US-based startups through its Silicon Valley based office. In most cases, the US-based tech ventures it backs have an India footprint either through a software unit or count an Indian origin as co-founder.
Recently, Nexus Venture Partners and early-stage venture capital firm Mayfield invested $10 million in Rancher Labs Inc, which is developing open source container infrastructure software. Rancher is an exception as it is a wholly US-based venture.
Open-source storage solutions from Swift and Ceph would be Milio's competitors. Periasamy, who completed his engineering from Annamalai University, has also invested in overseas startups such as Procurify (Canada), Treasure Data (Silicon Valley) and others.
---