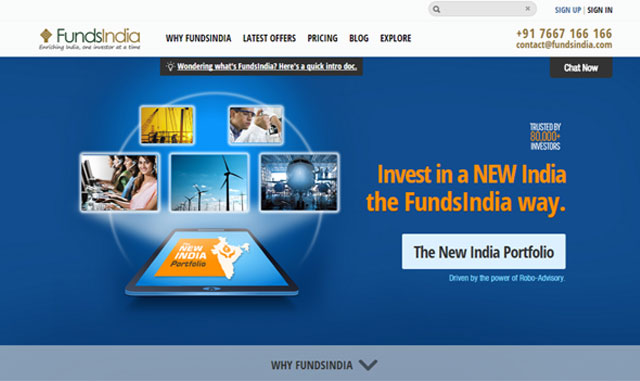 Chennai-based Wealth India Financial Services Pvt Ltd (WIFS), which is behind online financial services transaction platform focusing on mutual funds FundsIndia.com, has raised Rs 70 crore ($11 million) in its Series C round of funding led by private equity firm Faering Capital, with follow-on investments from existing investors Foundation Capital and Inventus Capital Partners.
The money will be used to widen the reach of its online financial services across the country in addition to enhancing its service offering, especially using mobile platforms, the company said.
As part of the deal, Sameer Shroff and Aditya Parekh of Faering Capital will join the board of FundsIndia. Ashu Garg from Foundation Capital and Parag Dhol from Inventus Capital will continue on the board along with the founders.
FundsIndia was founded by C R Chandrasekar and Srikanth Meenakshi in 2008. It is an online investment services platform that caters to retail investors for investments in mutual funds, equities, and corporate deposits, equity investment platform.
It offers mutual funds from all AMCs, stocks and ETFs from BSE, fixed deposit products from companies, Reliance MyGold Plan and other services. It has tied up with 39 banks for online transaction facilities.
"Over the last six years, we have demonstrated that technology enabled advisory services (robo-advisory) using online platforms is the best way to deliver financial advice to a lot of people. This round of funding will strengthen our efforts towards maximum reach and impact without diluting quality," said Chandrasekar, CEO of FundsIndia.com.
The company had raised Rs 20 crore ($3.6 million) in Series B round of funding led by Silicon Valley-based venture capital firm Foundation Capital along with Inventus Capital in July 2012. Inventus Capital invested Rs 3 crore in its Series A round in August 2010.
"We are impressed by the platform that FundsIndia has built - enabling consumers across India to access savings and investment products in a low-cost and seamless manner across devices," said Sameer Shroff, co-founder and managing director of Faering Capital.
---