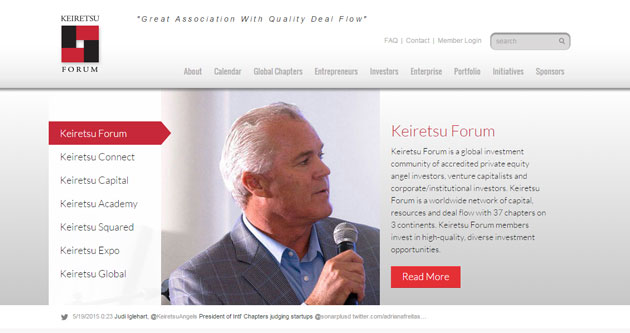 Keiretsu Forum, one of the largest angel investor networks in the world with around 1,500 members across three continents, is fast expanding its presence in India with the second chapter scheduled to open in Bangalore soon, and a third, in Mumbai, on the cards before the end of the year.
"The registration of the Bangalore chapter has been done. We are planning a soft launch sometime in July," Denny Kurien, president and CEO of Keiretsu Forum, Bangalore, told Techcircle.in.
Relatively new to Asia, Keiretsu Forum opened its first India chapter in Chennai in February and has since signed up 23 members including individual investors, institutional members and academic institutions.
Kurien said Keiretsu's member investors in Bangalore will have real-time access to deals coming to all its global chapters, particularly the ones in Silicon Valley and the Bay Area in the US.
The Bangalore chapter's co-president Robin Bisarya operates from the US. Bisarya is also in-charge of international partnerships at the Southern California chapter of the Forum.
Keiretsu Forum admits investors who qualify under US Security Exchange Commission (SEC) norms for accreditation and all membership is through invitation only. One of the criteria for accreditation is annual individual income of $200,000 (Rs 1.28 crore). While there are no such accreditation requirements in India, the Forum follows a similar selection criteria for its members here, Kurien said.
About half a dozen investors have already shown interest in joining the Bangalore chapter, he said.
"Angel investing is increasingly becoming a group activity as investors realise the benefits of working together to unlock hidden value in companies. The joint approach to early-stage investing is enhancing individual investors' ability to look beyond known circles and areas of expertise for deal flow," Kurien said.
Unlike most other angel networks, "We are sector agnostic and in Bangalore we will be looking at all high-growth sectors including life sciences, aerospace, food processing, retail and real estate, in addition to technology start-ups," he said.
Kurien is former Asia-Pacific managing editor at Dow Jones News Wires and is also co-founder of south India-based home appliances chain Lan Mark Shops India Ltd and brokerage platform Commodity Online India Ltd.
Keiretsu Forum Chennai, led by IIT Madras alumnus Rajan Srikanth, MD of SmartKapital, has so far had four pitch sessions in which 26 companies have participated. Due diligence in some case is going on though it is yet to seal an investment. Its members include Chand Das, chief executive – ITC Education and Stationery; Biji Kurien, former CEO, Berger Paints; and S Gopal, former managing director, Chemplast Sanmar.
---