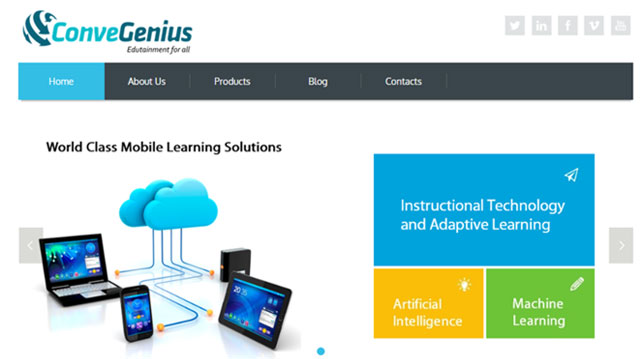 Wouldn't it be great if your child were to get a discount on his/her favourite toy for finishing homework on time?
The Noida-based Convegenius Edusolutions Pvt Ltd, which owns and operates digital education startup ConveGenius, is offering something on similar lines.
The company, which brings in elements of entertainment and associated rewards on its apps and mobile games, claims that about 6000 students use its tablet based-edutainment solution CG-Slate for an average of 15 minutes per day. ConveGenius aims to have three million kids on its platform by FY17, Shashank Pandey, co-founder of the company told Techcircle.in.
The CG-Slate interface provides features such as independence from the use of internet connection, easy distribution of content using SD cards, customised regional language integration, simple analytic report collection and teacher-student communication. It has the option of smart scribbles to maintain hand-written notes.
"We are working with few kids-focused e-commerce portals as well as gaming firms. Our customers include rural as well urban households," said Pandey.
The idea is that the e-commerce portals will dish out discounts for kids to finish an academic assignment on time. Or for that matter, the gaming firm partnership would would allow children to play one more level of their favourite games on meeting their academic targets.
The company says that CG-Slate envisages the integration of low-cost hardware (as was intended by government's Aakash tablet project) and software focused ecosystem to help kids learn in fun way.
Founded by Jairaj Bhattacharya and Pandey in 2014, the company currently has about 26 employees. In the last one year, it has tested and piloted CG-Slate in B2B channels with various NGOs, governments and private learning centres. CG-Slate was launched for Anganwadis in Chhindwara, Madhya Pradesh last year. Anganwadis are government-sponsored child care and mother care programmes that provide young children with an integrated package of services such as supplementary nutrition, healthcare and pre-school education.
ConveGenius will take the B2C route later this year. It will make the product available for free on Android smartphones and tablets for downloads.
"Our core competency lies in innovation via analytics and quantifiable data metrices that can capture learning and enhance it. Apart from tracking learning progress and trends, we encapsulate big-data in education to identify achievers (to incentivise), gauge overall effectiveness of educational programs and determine roadblocks in implementation," said Pandey
Talking about monetisation, Pandey said, "ConveGenius plans to monetise via its user engagement metrics that will lead to potential transactions and ad-based revenue. Hardware packaged solutions is one channel that we have been currently using to monetise, but user acquisition models will be the way to go in the long term."
The venture raised an angel round of $100,000 last October, and is currently looking to raise pre-Series A round with investors.
Today, Chennai-based Edsix Brain Lab Pvt Ltd, which runs a gamified skill assessment and enhancement platform for K-12 students, said it has raised an undisclosed amount in a second round of angel funding from Sprout Angels LLP. Edsix is an incubatee of IIM Ahmedabad's Centre for Innovation Incubation and Entrepreneurship (CIIE).
---