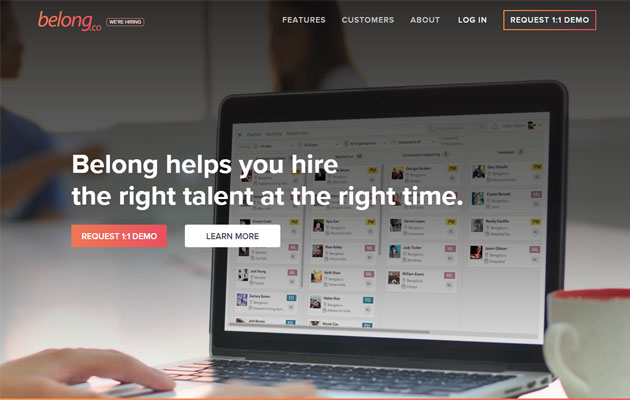 Bangalore-based recruitment startup Belong.co, owned and operated by Belong Technologies India Private Limited, has raised $5 million (Rs 32 crore) in Series A round of funding led by top-tier venture capital fund Matrix Partners along with Snapdeal co-founders Kunal Bahl and Rohit Bansal.
Seed stage VC fund Blume Ventures; Phanindra Sama, co-founder of redBus and Raju Reddy, founder of Sierra Atlantic also participated in the round.
The funds will be utilised to accelerate growth and customer success in addition to building team and technology, the company said.
Founded in 2014 by BITS Pilani alumnus Vijay Sharma and Sudheendra Chilappagari, Belong assists enterprises hire people through data science and predictive analytics. Its search and recommendation technology analyses profiles across social, internet and public sources to help companies discover potential candidates who best fit their culture and skill requirements, while gaining verified insights into whether the candidates are passively open to new opportunities. The solution also helps companies kickstart engagement with candidates through personalised interactions, backed by social insights.
"We plan to invest heavily in our team and technology. We intend to triple-down on our product and focus majorly on our data sciences, R&D and engineering in the coming months," said Vijay Sharma, co-founder and CEO of Belong. Belong currently focuses only on product and engineering talents, but will soon include data sciences and design talents on its portal.
"The SaaS market in India is developing very fast and the next few years will see world-class SaaS companies coming out of India. Matrix India has made five SaaS investments in the past twelve months and we plan to continue investing aggressively to build upon our global SaaS franchise," said Tarun Davda, director, Matrix India.
Matrix Partners had also invested in a Series A funding round in referral hiring solutions startup GrownOut last October.
The startup was running in stealth mode for a few months when the product was put to test by a number of companies that are using the platform to recruit for product and engineering positions, and was launched publicly only this month.
Its early customers include Snapdeal, Ola, Practo, Akosha and Zivame, all of which have collectively made more than 100 offers through the solution.
Early-stage investors have been showing renewed interest in specialized online recruitment startups in India.
In April this year, human resource ventures focused private investment firm The HR Fund had invested $500,000 (Rs 3.2 crore) in PiQubeAnalytics Pvt Ltd, a Chennai-based HR startup. The company's algorithm uses data patterns to identify matching candidates who could be interviewed. The HR Fund, with its $12.2 million corpus, had earlier invested in HR media platform People Matters and PeopleStrong HR Services Pvt Ltd.
Bangalore-based Abhiman Technologies Pvt Ltd, which operates an online recruitment platform under the brand of Hiree.com (earlier known as myNoticePeriod.com), secured Rs 18 crore (about $3 million) in Series A funding round from IDG Ventures in February this year.
In January, Mumbai-based Aasaanjobs Pvt Ltd, which runs an online recruitment platform for blue collar workers under the same brand name, had raised $1.5 million (about Rs 9.2 crore) in funding from Inventus Capital Partners and IDG Ventures.
Referral recruitment portal MyRefers.com secured Series A round from Bedrock Venture; and online recruitment platform TalentPad raising seed funding from Helion Venture Partners.
---