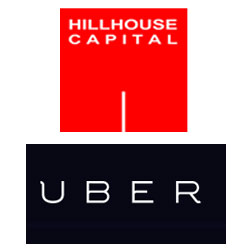 Chinese investment management firm Hillhouse Capital Group is said to be leading a $1 billion investment into ride sharing major Uber Technologies Inc.
The deal involves buying bonds that convert into shares at a discount to the company's initial public offering (IPO) price, as per a news report by the Wall Street Journal.
A spokesperson for Uber in India did not comment on the development.
The Hillhouse-led investment wont be in Uber's China operations but into Uber's global parent company, the report said.
Interestingly, Hillhouse Capital is also an investor in Didi Kuaidi Joint Co, China's largest taxi-hailing app which competes with Uber in that market.
China is an important market for Uber where it has a host of partners, including the country's top search engine Baidu Inc. According to a leaked email (obtained by the Financial Times) from Uber CEO Travis Kalanick, China is the number one priority for Uber's global team. Guangzhou, Hangzhou, and Chengdu have overtaken New York to become the largest cities for the company on a trips basis.
One of the biggest fund managers in Asia, Beijing-based Hillhouse Capital oversees assets in excess of $20 billion. The firm typically makes a range of public and private market investments.
In December last year, Uber had secured $1.2 billion in fresh funding from a group of unnamed investors. According to report by The Wall Street Journal, New Enterprise Associates (NEA) and Middle East sovereign wealth fund, Qatar Investment Authority, had participated in that round. US-based Valiant Capital Partners and Lone Pine Capital had also co-invested in the round that valued Uber at $40 billion.
In July 2014, Uber closed $1.2 billion in funding from institutional investors, mutual funds as well as PE and VC investors. The investors who participated in that round included Fidelity Investments, Wellington Management, BlackRock Inc, Summit Partners, Kleiner Perkins, Google Ventures, and Menlo Ventures. Previously, Uber had raised over $361.2 million in funding led by Google Ventures, which put in $258 million.
The company started its operations in India in October 2013 and is already present in 11 cities — Bangalore, Chandigarh, Chennai, Jaipur, New Delhi, Pune, Ahmedabad, Kolkata, Hyderabad, Mumbai, and Kochi.
Recently, Uber roped in Amit Jain from Rent.com as president of Uber India with an eye on making further inroads into what has already become the company's largest market outside the US.
---