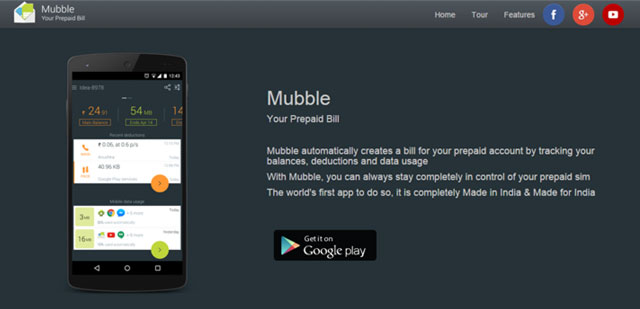 A new Android app assists prepaid mobile users in curtailing unexpected balance deductions by generating something similar to an itemised usage bill on the handset itself.
Bangalore-based Mubble, run by Mubble Networks Pvt Ltd, intimates users of charges incurred after every call, SMS or data session and saves that information on the device for future reference.
In other words, prepaid cell phone users will no longer have to rely on operator messages—many of which are incomplete, sporadic and storage unfriendly—to monitor balance deductions, Ashwin Ramaswamy, CEO and co-founder of Mubble, told Techcircle.
"Though operators send balance messages to subscribers, these messages seldom serve the purpose as there is no way of storing them on the phone. Moreover, they are incomplete and hard to understand since a lot of advertising content is injected in," said Ramaswamy, a former executive with India's largest telco Bharti Airtel.
According to him, messages sent by Indian operators are non-syntactical and unstructured.
A Mubble analysis of 20 million balance messages sent to 2.5 lakh users (by the likes of Bharti Airtel, Vodafone, Reliance Communications and other telcos) revealed that 37 per cent of such messages do not contain expiry dates of telephony/data packs.
"Expiry dates are crucial with rate cutter plans as the user has no way but to keep doing the math after every single call/SMS/data session to see if the offer is still in force or has expired," said Ramaswamy.
On the other hand, Mubble ensures that all account-related information, including expiry dates and last call charges, are stored on the device end-point itself. The app supports many languages including Hindi, Marathi, Tamil and Kannada. More than 30 per cent of subscribers use the app in Indian languages, Ramaswamy said.
With the advent of 4G and rising penetration of mobile broadband, tracking data spends has become a bigger challenge for prepaid users. Most users do not understand that data leakages may happen over an active connection even if an app is no used.
Messages that go like 'Usage made: 0.04MB. You have: 1848.87 MB left in your account,' don't make much sense to most users in tier two and tier three cities.
Mubble tells users in English which app has consumed how much of the mobile data pack. "We have gone a step further to show the subscriber which app he used and which app was untouched in the data session," said Ramaswamy.
So how does the app work?
On installation, the app asks the user to activate Mubble recorder, a service which gets added to the phone's 'system settings' after the download. Mubble recorder records pop-ups sent by operators and then saves them in the Mubble app.
"We have built an unnatural language processor to parse the non-syntaptical messages sent by the operator. The parser interprets the message and extracts relevant information that a user needs," said Ramaswamy.
Ramaswamy claims that Mubble is the only app in the world which provides usage-related data scraping and tracking on dual SIM phones. It's nearest global competitor is piBalance, a similar offering by a Russian entrepreneur that tracks single-SIM phones.
Mubble's addressable market is huge, considering that 95 per cent of telecom users in India prefer the prepaid model. With smartphone prices falling, the prepaid smartphone base is expected to grow to 300 million in the next few years from 100 million presently, according to Ramaswamy.
Since coming out of beta mode on April 1, the Mubble app has clocked over 3.2 lakh downloads. "We are looking to end September quarter with at least one million downloads," said Ramaswamy.
Mubble's promoters are clear that their short-term goal is not revenue growth but expansion of the user base.
"We have several natural adjacencies in our product which allow monetisation later, the most obvious one being to enable users to recharge their prepaid SIMs through our app. Our key focus for now remains on meeting our users' needs and expectations," Ramaswamy said.
However, some investors believe that more clarity is needed on the revenue model.
"The utility provided is very useful but consumers will not be willing to pay for the information as telecom companies are providing them regular updates. Unless there is a good revenue monetisation model, it's difficult to attract investor interest," said Sanjay Mehta, an entrepreneur-turned-investor whose portfolio includes names such as Zippr Smart Address, AllizHealth, Prettysecrets.com and Poncho (Box8.in).
Mubble was established in 2013 by Ramaswamy, Pranav Jha and Raghavendra Verma. An alumnus of IIT Madras and IIM Bangalore, Ramaswamy has over 18 years of experience in telecom, retail and FMCG industries. He has had senior management stints with Bharti Airtel, Jubilant Retail and Johnson & Johnson.
Jha, who is also chief operating officer, has previously worked with Infosys, BMC Software, OnMobile and other companies. Verma, who is also chief technology officer, was a founding team member at OnMobile.
---