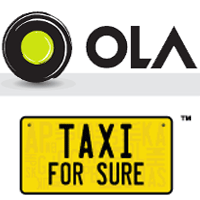 Online cab booking service provider Ola (formerly Olacabs), run by Mumbai-based ANI Technologies Pvt Ltd, has begun the process of integrating services of the recently acquired TaxiForSure on its mobile app. As a first step, customers can now book TaxiForSure hatchback cabs directly from the Ola app, according to a press statement.
Ola, which is a home-grown competitor to San Francisco-based ride sharing app Uber, had acquired online taxi aggregator TaxiForSure for $200 million (Rs 1,250 crore) in March this year.
The TaxiForSure Hatchback (TFS Hatchback) will appear as a new category on the Ola app and customers can make bookings similar to other Ola services such as mini, sedan, prime or auto. The service has gone live in Delhi and Mumbai to begin with. It will be extended to other cities in a phased manner over the next few weeks, the company said.
"By bringing TaxiForSure hatchbacks onto the Ola app, we have unlocked complimentary value. As a platform, Ola believes in giving access to a wide range of personal transportation options from a single app. We will continue to find more unique ways to create efficiencies between the two brands, to create a seamless experience for all our customers and drivers," said Pranay Jivrajka, chief operating officer at Ola.
Registered users of TaxiForeSure, who book a TFS hatchback cab on the Ola app, can track their booking on the TFS app as well.
Founded in a 100-square foot office in Bangalore in 2011 by IIM-Ahmedabad alumni Raghunandan G and Aprameya Radhakrishna, TaxiForSure facilitated about five million cab rides for users over the last four years before being acquired by Ola. Both the founders left the company barely a month-and-a-half after selling their online taxi aggregator to Ola. However, they still own 0.8 per cent stake in Ola which is currently worth just over $19 million (around Rs 120 crore), as per Techcircle.in estimates.
Under Ola, TaxiForSure continues to operate as a separate entity. The two are similar at the front end for the consumer but have different back-end business models. While Ola has a driver-centric business where it brings individual driver owners of cabs to its network, TaxiForSure has an operator-centric model where it ties with cab operators with a fleet of cars in the network. Both firms also offer auto-rickshaw booking.
Founded in 2011 by IIT Bombay alumni Bhavish Aggarwal and Ankit Bhati, Ola raised $400 million (Rs 2,495 crore) in its Series E round of funding led by Russian investment firm DST Global in April this year. Other new investors include GIC and Falcon Edge Capital. SoftBank, Tiger Global, Steadview Capital and Accel Partners US are the existing investors which participated. With the latest investment, Ola is valued at $2.4 billion (post money), almost four times its valuation in October 2014 when Japan's SoftBank led a $210 million funding round in the company, as per VCCircle estimates.
---