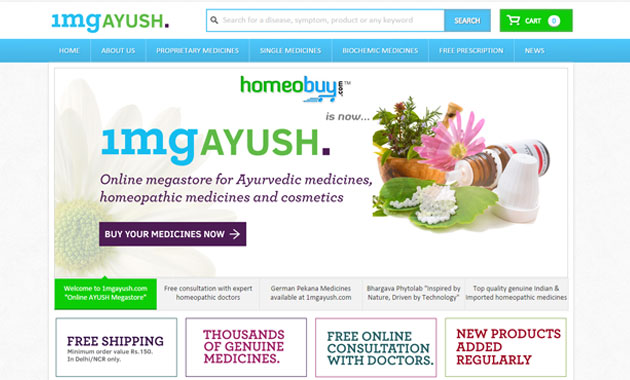 Gurgaon-based Bright Lifecare Pvt Ltd, which owns and operates online drug marketplace 1mg.com, has acquired homeopathy medicines platform homeobuy.com for an undisclosed amount, the company said in a statement.
With this deal, 1mg.com (formerly HealthKartPlus) enters the alternate Ayurveda-based and homeopathic medicines category. Subsequently, homeobuy has been rebranded as www.1mgAyush.com.
"We are the platform that stands for consumer health and we believe the alternate forms of medicines are equally important. Having seen the importance of these alternative forms of medicines and our government's support in promoting them, we aim at creating an exhaustive platform for all health solutions. The business will continue to work on a marketplace network model and partner with quality vendors in this sector," said Prashant Tandon, founder of 1mg.
Healthkart was started by Prashant Tandon and Sameer in 2011 which was into fitness and nutrition supplements, sports nutrition, health devices, personal care, etc. HealthKartPlus ( a pharmacy network) was a part of the HealthKart family . HealthKartPlus recently re-branded to 1mg.com.
It also enables users find substitutes from other brands as well as their cost-effective generic equivalents. The company also offers cost comparison of generic and prescribed drugs. 1mg claims that its app has been downloaded 2.5 million times. Last year, the company began pivoting to a marketplace model, where it will list products from third-party vendors instead of restricting itself to the inventory-led model.
Its re-branding from HealthKartPlus to 1mg happened in April 2015. Subsequently, 1mg raised $6 million (Rs 32 crore) from existing investors Sequoia Capital, Kae Capital, Intel Capital, Omidyar Network and MakeMyTrip founder Deep Kalra, On the other hand, homeobuy was founded in July 2014 by Vivek Singh, an former executive of Ranbaxy. It was later funded by angel investor Amit Sodhi.
The company has a wide collection of Indian/imported homeopathic and biochemical medicines with detailed description of indications, active ingredients, mode of action and recommended dosage and more. It also provides free online consultation through homeopathic doctors. Without getting into specifics, the target firm said that it has thousands of stock-keeping units (SKUs) in its product portfolio.
The alternate medicine space is expected to grow rapidly. Homeopathy is today a Rs 3000 crore industry growing at 30 per cent and is expected to cross Rs 5500 crore by 2017, as per an Assocham report. The country presently has Rs 10 crore homeopathy consumer and this number is expected to cross Rs 16 crore by 2017, according to the report.
---