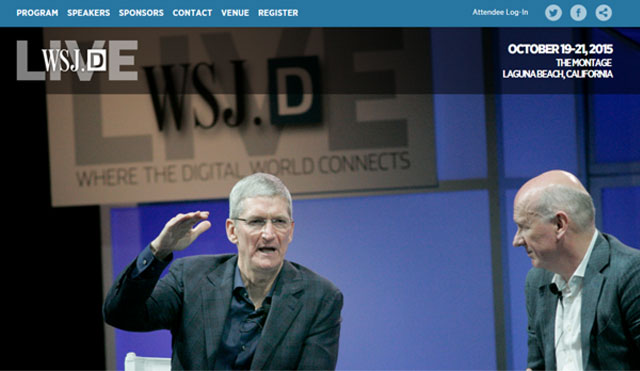 Think you have a great technology idea with a clear global application? Are you an independent startup that has bagged less than $5 million in funding?
If yes, then you have seven more days to apply for The Wall Street Journal's Global Startup Competition which will take place during WSJDLive on October 19-21 at Laguna Beach, California, the US.
In its second year now, WSJDLive brings together an unmatched and unique group of top CEOs, inspirational founders, game-changing pioneers, enterprising investors and luminaries to explore the most exciting tech opportunities emerging around the world.
The competition will showcase entrepreneurs from around the world who have created amazing new technologies, products and services that can be used and shared globally.
Semifinalists will have the opportunity to attend WSJDLive and present their companies to a panel of judges and an audience of Fortune 500 CEOs, entrepreneurs and investors from around the world.
Featured speakers at WSJDLive this year include Marc Benioff of Salesforce, Virginia Rometty of IBM, Bin Lin of Xiaomi, NSA Chief Admiral Michael Rogers, Tyra Banks of Fierce Capital, Kazuo Hirai of Sony, Elizabeth Holmes of Theranos, Stewart Butterfield of Slack, Robin Li of Baidu, Sergio Marchionne of Fiat Chrysler Automobiles N.V., Richard Plepler of HBO and investor Yuri Milner of DST Global.
The competition is open to any independent startup launching a product or service between January 1, 2015 and May 31, 2016.
Israeli startup VoiceITT, which is developing voice-translation technology for the disabled, had won the audience favorite award in the 2014 edition of the competition. VoiceITT was also chosen by Wall Street Journal editors as one of five finalists from more than 200 applications.
The other four finalists were Yondr, which makes a cellphone case that blocks signals to create a phone-free zone at concerts and other venues; Qorio, the maker of an app that trains its users to sing; Next Glass, whose app assists in choosing a bottle of wine based on the user's preferences; and AirGo Design, for its futuristic airplane seat.
Entries to the Global Startup Competition will be accepted till July 1, 2015.
News Corp, which owns the parent company of this site, also owns Dow Jones & Co, which publishes The Wall Street Journal.
---