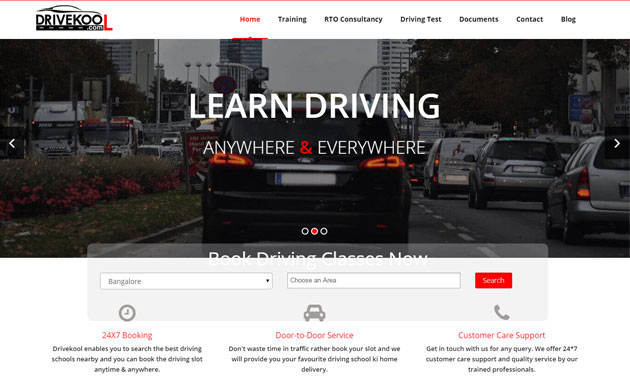 A Bangalore-based startup wants to be the Classpass equivalent for driving schools in India.
Drivekool.com, run by 4th Dymension Teknocrats India LLP, is an online market place for driving schools where users can pick tentative slots with any Bangalore-based driving schools and book driving lessons.
Users can book two-wheeler and four-wheeler driving lessons and get license assistance through the platform, which will soon be extended to 10 more cities in the country.
Just over a year post its launch, Drivekool is seeing interest from India's cab aggregation companies. It is currently in talks with the country's largest cab aggregator Ola for training drivers, said Mahesh Gidwani, co-founder & CEO of DriveKool. The two companies are exploring a model in which Drivekool will assist Ola's drivers (including aspirants) secure technical training and soft-skills. If talks go through, Drivekool will also help Ola's drivers with other transportation-related RTO services such as registration renewal, owner's address change, driving license and so on, Gidwani added.
A spokesperson for Ola, which is run by Mumbai-based ANi Technologies, did not respond to Techcircle email for a comment on this partnership.
However, it is well known that Ola, which competes with San Francisco-based Uber, has set an ambitious target to reach one million drivers on its platform within the next three years. Currently the service has over 100,000 drivers, a number that has grown from 10,000 one year ago. Today, cabbies are expected to know smartphone basics, be technology synced, and well-groomed and courteous to passengers.
Gidwani said that Drivekool plans to open discussions for similar engagements with ride sharing app Uber and other players in India's taxi aggregation space.
DriveKool, which claims to be India's first marketplace for driving schools, was co-founded by Gidwani along with Saumitra Kayal and Kumar Gaurav in 2014. Gidwani decided to launch the startup when he personally experienced the struggles associated with finding a professional driving instructor post his return to India after working as a technical architect for Dell in the US.
Gidwani holds a master's degree in Computer Applications (MCA) from Devi Ahilya Vishwavidyalaya, Indore. Kayal is an ISI (Indian Statistical Institute) Kolkata alumnus who has over 19 years of engineering and management experience.
A strategic planner and technologist, Gaurav has worked with startups such as Ezeecondo and Get2Galaxy Technology.
ClassPass is an American fitness startup company based in New York City and founded by dancer Payal Kadakia. The company offers a flat-rate monthly subscription service to get access to participating fitness classes in over 30 American cities. ClassPass was reported to have a revenue run rate of $60 million for the year in February.
DriveKool generates its revenue from a one-time listing fee from driving schools in addition to charging a percentage of commission on every transaction that goes through the portal. The company, which is currently operational only in Bangalore, enables about 20 bookings a day.
According to Gidwani, it will expand operations to at least 10 cities in India once it starts seeing a minimum of 100 bookings a day. The startup has already onboarded over 100 driving schools into its network. It claims to have facilitated nearly 2,700 bookings so far, enabled over 13,000 hours of driving training and generated over Rs 45,00,000 in business for affiliate driving schools. "Of the 16,000 people we served, more than 80 per cent have availed both training and RTO services," Gidwani added.
Drivekool counts KFC, FAASO'S, and Infants Travels as corporate clients and discussions are currently underway with several food chains, e-commerce players and taxi aggregators. "Any organisation that manages a fleet of vehicles or is in need of drivers would need our services. When they do not have the resources readymade, they will have to find the sources and train them. We ask these companies to find the resources, regardless of the fact that they know driving or not. We will train and assist them with license," said Gidwani.
DriveKool also plans to add training services for trucks, buses and earth moving machines through its network of affiliates. "India is a large market for us. This is a niche platform and we are the only only player. It's estimated that nearly 51 million truck drivers are required in India currently. Being the early mover in the market, we would like to capture at least 30 percent of the market," he said.
In a bid to support its expansion plans, DriveKool seeks to raise funding to the tune of $1 million. Will investors be keen to put their money in such a venture?
"While the concept behind DriveKool is great for consumers, the investor community would be skeptical about the market size. Not everyone goes to a driving school to learn the trade. A taxi driver teaches his friends and lot of people learn driving from their family itself," said Brij Bhasin, principal - India investment lead at Rebright Partners, a Japanese venture capital fund based in Singapore.
"It's a great business for the founders to bootstrap and scale, but to attract a venture capital fund, they will have to explore other parallel business models and expand the market size for their offering," Bhasin, who led Rebright's investments in adtech firm TookiTak and digital media startup News in Shorts, said.
According to a study by Transport Corporation of India, for every 100 vehicles, there are at least ten which have no drivers. There are approximately 72,00,000 commercial vehicles (both large and small) and that number continues to grow, the number of drivers has correspondingly reduced by 5-10 per cent. The country has an estimated 55,00,000 commercial cabs for its 10 large cities. According to another estimate, nearly 10 per cent of fleet cabs and 15 per cent of the black-and-yellow taxis were lying idle in Mumbai last year due to paucity of drivers.
Drivekool does not have a direct competition in India today, Gidwani believes. However, local search firms like JustDial and others that provide listings of small and medium businesses, could be seen as potential competitors.
In April, Ola had announced the signing of a MoU with Empower Pragathi (an investee company of NSDC) and Automotive Skills Development Council (ASDC). ASDC will assist Ola in training, skill development and guiding aspirant women drivers, as part of Ola's roadmap of creating at least 50,000 woman driver-entrepreneurs in three years.
---