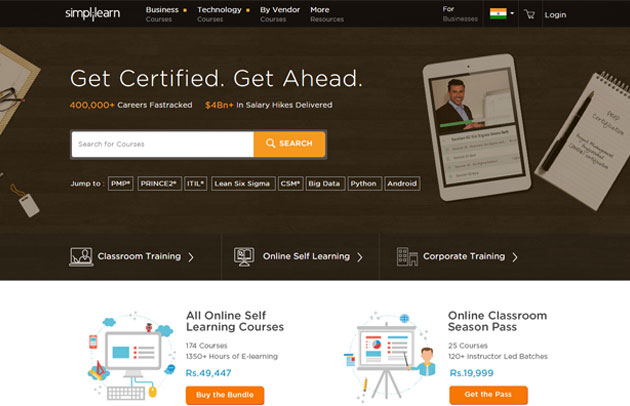 Bangalore-based online technical education company Simplilearn Solutions Private Ltd which has just made a $10 million-acquisition of Silicon Valley-based digital marketing training Market Motive, is looking to complete one more acquisition of similar size within a year to become the biggest global brand in certification course training for professionals.
Krishna Kumar, founder and CEO, Simplilearn, told VCCircle the company achieved turnover of about Rs 100 crore during financial year ended in March 2015 and is on course to cross Rs 200 crore in the running year. "Our target is to achieve $100 million (Rs 640 crore) run rate or a monthly revenue of over $8 million (Rs 51 crore) by March 2017," he said.
For Simplilearn, about 80 per cent of revenue comes from overseas. Krishna Kumar said the acquisition would help the company strengthen its presence in the US which accounts for half of its revenue and expand to categories it did not have so far.
"As an online professional course trainer, scaling up globally is easy for us. Big Data is same in Bangalore and Boston," said Krishna Kumar.
The company had raised $15 million early this year from Mayfield and existing investors Helion Ventures Partners and Kalaari Capital to fund this acquisition. "We are comfortable doing one more acquisition of $10 million size. We are looking for companies providing training in niche areas," he said.  "I have met many firms but no discussions are active currently," he said.
It has so far raised $28 million in three rounds.
Patna-born, NIT Surathkal graduate Krishna Kumar, with three of his colleagues, set up a software services firm in 2000 after a brief stint of six months with Infosys. "It was a garage startup. We hardly knew anything then," Kumar recalled about his first venture where he was co-founder and COO. The company, TechUnified clocked annual revenue of Rs 18 crore and profit of Rs 7 crore when it was sold to ORG Informatics for Rs 49 crore in 2007.
The company did not have any investors and four founders earned roughly 25 per cent each. Post the exit, he experimented with online recruiting venture briefly. "Internet was still new at that time. My experience was in B2B software services and products. I wanted to experiment with internet and started blogging," he said.
"It was a break time. I was just sharing my ideas on project management and related areas on my blog on WordPress on a part time basis. I did not have plans to make it a company. It was not a well thought out move or anything."
"But the blog became popular. I created  10-12 hours of video. I gave free training for 3,000 people without any marketing," he said.
People, who came to his site started asking for more PMP (Project Management Professional) training in return of donation. "That is when I started thinking about making it a business venture."
"I invested my own money, hired good people and launched as a company in 2010," Kumar said.
There was no turning back since then. According to Kumar, the company offered training to about 400,000 people. "We give training to 20,000 people a month now. By the end of this year it will be 30-35,000," he said.
Simplilearn provides courses of 20 certification bodies globally and offers vendor certification courses from Microsoft, Cisco and Salesforce. With the Market Motive acquisition, a host of digital marketing courses will also be available on its platform.
"We were already acting as a reseller of Market Motive in India. We liked their content," he said.
"We want to be a global brand, a horizontal player offering a wide range of courses. We are positioning ourselves as a certification training course provider for working professionals, helping them gain an extra edge in their careers," Krishna Kumar said.
---