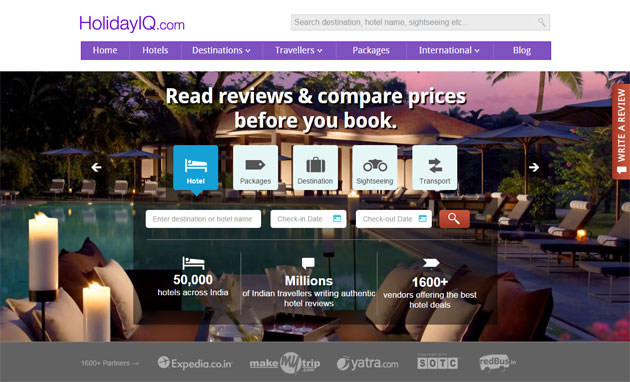 Bangalore-based Leisure and Lifestyle Information Services Pvt Ltd, which runs travel information and hotel review portal HolidayIQ, has launched what it claims to be India's first mobile-only vacations marketplace app dedicated to activity-based leisure travel.
Christened 'Holidays', the marketplace showcases over 1,000 activity-based packages and allows travelers to customise their holiday using various filters such as budget, duration, vacation type and activity, as per a press statement.
HolidayIQ has joined hands with Giftxoxo, Tushky, Exploita and Padharo to provide a range of experiential holidays for Indian travelers.
"Over 70 per cent of holidays planned on HolidayIQ are through mobile devices. Secondly, we are moving from destination-led holidays to experience-led ones. And so, we have aggregated the first ever mobile-only activity-led vacations marketplace. People can also review all these holidays individually on the app helping other travellers plan better," said Hari Nair, Founder & CEO of HolidayIQ.
The app also provides itinerary details within each listed holiday-package. These vacations include over 1,000 activities including cycling, hiking, river rafting, Bollywood inspired walks and so on. Founded in 2004, HolidayIQ provides hotel reviews, photos, deals, flight search, blogs and forums for various Indian tourism destinations, hotels, resorts and Indian airports. The portal claims to have over 1.3 million travelers who have contributed content.
HolidayIQ claims that it lists over 2,000 travel destinations and 50,000 accommodation options on the platform. HolidayIQ operates on an affiliate lead generation model for other sellers. As users browse HolidayIQ for information and decide to do bookings, the portal directs them to its large pool of partner websites online.
The company generates revenue on a CPC (cost per click) model for every user directed to another online portal. HolidayIQ also connects customers looking for tour packages to offline travel agencies, and take a commission from the agencies. It has tie-ups with over 500 offline travel agents in India.
HolidayIQ's last funding happened in February 2013 when it demerged out of Singapore-based OTA Wego and raised around $5.5 million from Accel Partners and Tiger Global. It had previously merged with Wego in 2010.
---