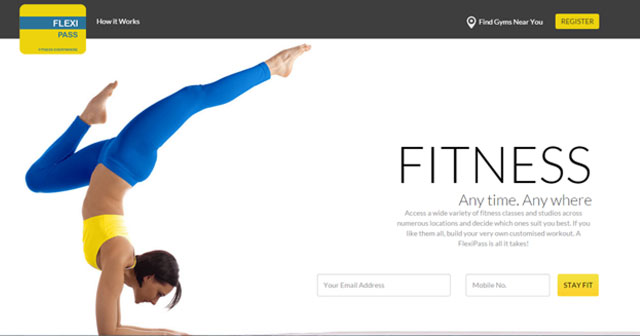 The resounding success of ClassPass in the US seems to have propelled several Indian internet startups to launch services that link fitness enthusiasts with gyms and studios through a curated marketplace.
After former Jabong director Rukaiya Kanchwala launched Classverse in Delhi last month, ex McKinsey consultant Pankaj Gupta is ready to don the entrepreneurs hat with FlexiPass, a service that gives clients the flexibility of choosing where and when they workout without having an annual contract with an individual fitness studio.
The yet-to-be-launched FexiPass will provide clients with access to crossfit sessions, circuit training, spinning classes, yoga sessions, zumba workouts and so on across gyms and studios in Delhi (to start with) for a common monthly membership fee, said Gupta. Much like ClassPass and ClassVerse, FlexiPass gives clients the flexibility of choosing where and when they workout without having an annual contract with an individual fitness studio.
"The idea was born out of my own experiences while traveling as a consultant. I often felt unfit as there is no service in India that allows one to workout in any fitness centre depending on your travel schedule," said Gupta.
He accepts that his startup is modeled on ClassPass, the US-based firm which was reported to have a revenue run rate of $60 million for the year in February.New York-headquartered ClassPass, whose founder Payal Kadakia is of Indian origin, was valued at around $400 million in its recent round of fundraising.
However, FlexiPass, which is run by New Vibes Ventures Pvt Ltd,  wants to go beyond fitness to nutrition and sports. "We would also provide services at customers' homes as there are many housewives and elderly folks who are unable to go to a fitness center. They often look for services such as yoga or nutritionists to be delivered at home. We believe a lot of customisation is required in the Indian context," said Gupta.
FlexiPass already has tie-ups with over 200 fitness centres in Delhi and Mumbai. After running a pilot in these two cities, FlexiPass intends to expand to the country's top 10 cities. In every city, FlexiPass will look to have about 400 studios and gyms as partners.
A model like this works well for fitness centres too as they can make vacant and unused slots for firms such as FlexiPass and ClassVerse. "We aim to create a disruption in fitness space by removing gaps in utilisation and easing access to fitness studios using technology," he added.
FlexiPass, which is currently self-funded, has opened its portal for user registrations and will soon launch services in Delhi. Mumbai is next on Gupta's radar. FlexiPass plans to launch value packs and customised packages for users. "We want to give more flexibility to customers. We are also planning to create value packs where customers need not pay so much, they can pay a much lower amount around Rs 1000-1500 and access up to 10-15 times," Gupta added. Its closest competition, ClassVerse also offers its members unlimited classes to studios in the ClassVerse network for a monthly fee. ClassVerse has partnered with 250 fitness studios, offering more than 5,000 classes a week and over 100,000 fitness and activity slots per month.
In addition to ClassVerse, Gupta says that FitPath and FitTicket would be its other competitors. "Everybody is one or two steps behind each other. It's the early days of fitness tech industry. I do believe that it is an execution game...," said Gupta.
FlexiPass will soon make some senior inductions to its team. A lady writer, who is also a serial entrepreneur, would soon come on board as co-founder, Gupta added.
FlexiPass' business model is similar to Delhi-based Golflan Technologies Pvt Ltd, which offers subscription services to play the sport across several golf courses throughout the globe without having a membership in the respective club. Golflan had raised an undisclosed amount in seed funding from early-stage investor YourNest Angel Fund in March.
---