The fall of Housing.com from one of the hottest tech startups in India to a big public relations disaster has been quick, thanks to its just ousted CEO Rahul Yadav. And this has put the largest owner of Housing—Japanese internet giant SoftBank, one of the biggest internet investors from Asia with $70B in revenue—in a delicate spot.
Only six months ago it wrote a $90 million cheque for this college startup in exchange of a 32.56 per cent stake, but it appears SoftBank is already exploring a sale. Sources familiar with developments at the online real estate company said Quikr-Housing.com deal, as reported by VCCircle, is in works but it may not be easy to fructify due to several reasons including a mismatch in valuation expectations.
SoftBank, Housing's biggest stakeholder, is said to be seeking a price of $350 million which none of its rivals would want to cough up considering the startup's main asset is its product and technology and not so much the business (revenues).
As an immediate sale may prove to be daunting, sources say SoftBank's current priority would be to stabilise the affairs at the startup while also increase the monetisation efforts rather than stepping up the sell-off initiatives.
According to a cross section of people in the Indian startup investment circle, the trouble at Housing is about how an imprudent investment without adequate diligence by a global fund house is backfiring as much as it is about a young mid-20s IIT-dropout failing to deal with staggering growth of the company he co-founded.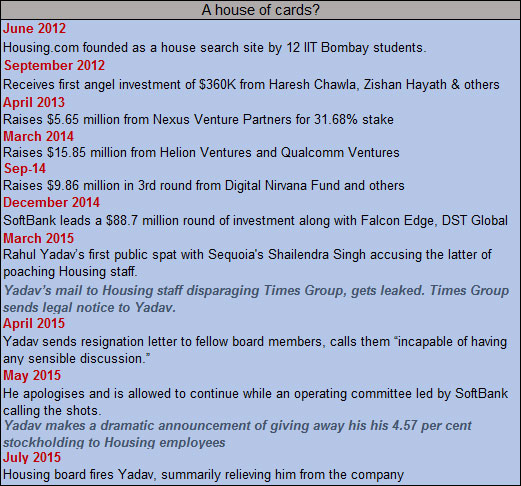 "They wanted to make a big bang entry into India with a $1 billion investment, make a splash, and get a meeting with (Prime Minister) Modi..," said a venture capital investor who manages a diverse portfolio, indicating the Japanese giant might have made a mistake in a hurry to invest.
(In late 2014, SoftBank announced close to $1 billion investment across three Indian internet companies—$627 million in Snapdeal, $210 million in Olacabs and $90 million in Housing. It also committed $10 billion investment in the next 10 years in Indian internet.)
In response to a detailed questionnaire, SoftBank spokesperson said: "We value our investment in Housing. The board and the operating committee will work with the senior executives to ensure the company runs smoothly and maximises its potential. Our commitment to Indian start-up ecosystem remains strong and unaffected."
"This deal came about in two weeks and SoftBank wrote a cheque of $90 million in a jiffy to a young company which hardly needed money. Besides, the least you do when you are committing capital to a company is to do a reference check with existing investors which was not done," said an investor who is closely following the company.
"Their pitch to Housing management was: 'we want to own 30 per cent; how much are you raising?' And they put in $90-100 million in lieu of that into a company which was barely a year old," he said.
Housing co-founder and board member Advitiya Sharma told VCCircle in an interview in early January that the deal was done in record time.
"What we now see is the downside of 'momentum investing," said Mahesh Murthy, managing partner, Seedfund. According to Murthy, the Indian startup ecosystem is likely to see more instances of momentum investing – investors chasing existing trends in the market betting on a long and sustained growth but not doing an independent due diligence.
The buck clearly stops with SoftBank, the lead investor in Housing which is handholding the three-year-old startup at this stage even as the current imbroglio creates distraction for its workforce. A part of the problem lies in Housing's sudden shift to be under the direct control of SoftBank.
The startup, which was so far used to its earliest backer Nexus Venture Partners' working style and approach, found itself exposed to a hitherto unfamiliar style when SoftBank came on board. "And apparently there were differences between SoftBank and Nexus," according to an investor. A Nexus spokesperson declined to comment.
Also Housing struggled to mature from being a college startup. "There wasn't any example of a college startup emerging as a great enterprise in India. Housing showed prospects of being an exception but it has waded into a difficult phase now," said one of the investors cited above.
According to him, the entire episode of months-long friction between Rahul Yadav and his investors has led to the realisation that bright fresh-out-of-college engineers may be good at building smart technology products but they need a different level of maturity to run and scale businesses. "As for writing cheques for college startups, there will be a lot more diligence now on," he said.
"Housing, which was touted as such a hot startup and built on the back of disruptive innovation, would have had a different trajectory for itself, but now the investors are exploring an exit," said another investor. Many people in the industry think a key founder leaving the company does not augur well for its prospects.
Though there are still chances for Housing to surge ahead, many view SoftBank's troubles with one of its early investments in India as a classic first blow-up of irrational exuberance in the Indian consumer internet space.
"You will see many more such incidents with over-valued and over-capitalised companies in coming months," Seedfund's Murthy said. "From Russia's DST to Ratan Tata, everybody is doing momentum investment now. But music will stop at some point," he said.
Housing competes with PropTiger in which News Corp, which owns the parent of this website, is a significant minority investor with a 30 per cent stake.
---