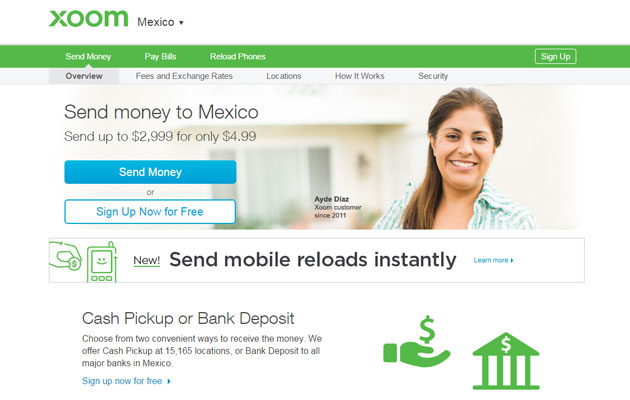 Online payments company PayPal Inc has acquired Nasdaq-listed Xoom Corp, a digital money transfer provider with operations in India, for an overall consideration of $890 million.
The transaction, which values each Xoom share at $25, represents a premium of 32 per cent over Xoom's three-month volume-weighted average price, Ebay Inc, PayPal's parent company, said in a press statement.
"Acquiring Xoom allows PayPal to offer a broader range of services to our global customer base, increase customer engagement and enter an important and growing adjacent marketplace. Xoom's presence in 37 countries - in particular, Mexico, India, the Philippines,China and Brazil - will help us accelerate our expansion in these important markets," Dan Schulman, President of PayPal, said. The move comes a few weeks before PayPal's split with eBay, scheduled for later this month.
The deal also broadens PayPal's consumer offering to its 68 million US-based clients by cross-selling Xoom's services.
In 2003, Xoom launched its instant online-to-offline money transfer service in India, the world's largest remittance market. It provides instant deposit services to send money to India for account holders of ICICI Bank, Punjab National Bank, HDFC Bank, Union Bank of India, Bank of Baroda, Federal Bank and Yes Bank.
Xoom had raised $78 million in external funding from investors such as Glynn Capital Management, Sequoia Capital, New Enterprise Associates, Fidelity Ventures and other before going public on 2013.
Upon closing of the acquisition, Xoom will operate as a separate service within PayPal. The acquisition is expected to close in the fourth quarter of 2015, subject to customary closing conditions, the press statement said.
It may be recalled that in January, Xoom had announced $30.8 million in fourth-quarter costs tied to a suspected criminal fraud and said its chief financial officer resigned. "The incident involved employee impersonation and fraudulent requests targeting the company's finance department, resulting in the transfer of $30.8 million in corporate cash to overseas accounts," the company had said then.
Recent news reports have indicated that Paypal founder Peter Thiel may lead a $25 million investment in Mumbai-based mobile payments startup Citrus Pay in a round which could also see participation from Sequoia Capital and other existing investors. However, this could not be independently verified.
According to a report by the Internet and Mobile Association of India (IAMAI), digital payments are expected to be worth over Rs 120,000 crore, growing 40 per cent on the back of rising transactions in e-commerce, utility bill payments and others.
---