Though the maverick co-founder and CEO Rahul Yadav is out of Housing.com, troubles refuse to desert the online realty startup. Five days after Yadav was fired from the company, its website went through major troubles on Monday. Though it was restored briefly it again went down.
While there was no immediate official explanation from the company, the visitors of the Housing website could not access it for a brief while. Instead, a page with what seemed like a cryptic message popped up. The only expressions comprehensible for common men were: #rahulyadav #housingdown; Yes, we solve real estate but 10X better with Chief Architect, etc.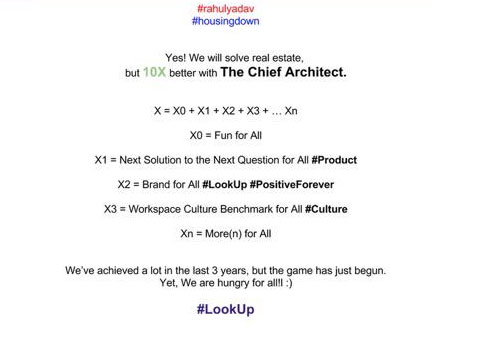 It concluded with "We have achieved a lot in 3 years, the game has just begun. Yet, we are hungry for all!".
Though the front page https://housing.com/in was active, each time a visitor clicks on any link to go into the website, the page title #rahulyadav #housingdown popped up.
Meanwhile, Yadav, who was fired for his bad behaviour, hinted no involvement through a Facebook update. "I would have DESIGNED it better. ‪#‎NotInvolved ‪#‎LoveYouTechTeam," he posted.
---