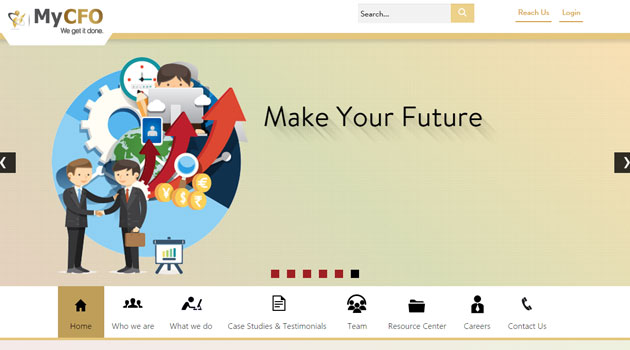 Mumbai-based Wealth Tree Partners, which claims to take full ownership of a company's finance division through MyCFO.in, has raised Rs 6.21 crore ($978,000) in Series A funding from ASK Group promoter Monik Koticha and other investors.
MyCFO will use the money to expand its team of senior professionals and expand geographical reach, as per a press statement.
"The funding is significant as we are the first company in this space ever to have raised funding. We believe we have the right partners to take this business to the next level," Deepak Narayanan and Venkat, co-founders, said in the statement. The names of other investors who participated in this round are not disclosed.
Established in 2006, MyCFO mainly offers budgeting, cash flow management and ERP implementation. The company also provides a service called interim CFO, which helps firms manage transition periods while it scouts for a CFO.
It also provides other services such as profitability improvement, business process improvement, risk management, forex management, IT implementation and general ownership of the finance function.
MyCFO presently employs over 100 executives across Mumbai, Delhi, Bangalore, Hyderabad, Pune, Chennai and Coimbatore.
"We see tremendous potential for MyCFO's tried and tested unique business and  delivery proposition among high growth companies looking to build scale and size through best in class Finance practices," said Koticha, founder- promoter of investment advisory firm ASK Group.
MyCFO is also keen to join hands with software providers to create packaged solutions for tasks such as compliance services, the statement said.
ASK Group is one of a few players which have continued doing equity deals even in tough times. Currently, it is raising and deploying capital from its maiden offshore and third domestic realty fund. Its maiden offshore fund has a target corpus of $200 million and the domestic fund has a corpus of Rs 1,500 crore. Recently, it clocked exits from two investments in Pune where it sealed exits worth Rs 147 crore.
---