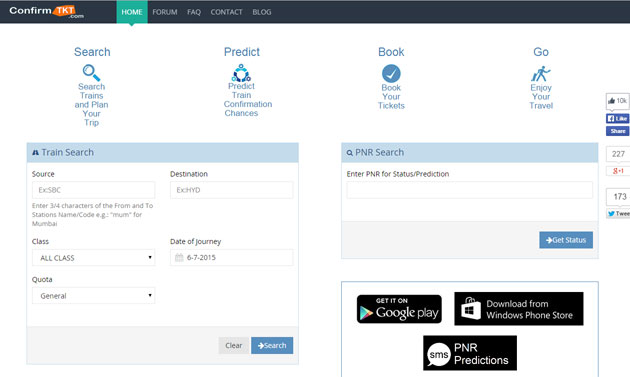 ConfirmTKT, a startup that predicts train ticket confirmation chances based on historical trends, has secured angel funding from Pravin Agarwala and other angel investors.
Confirm Ticket Online Solutions Pvt Ltd, which owns and operates ConfirmTKT, will use the money to improve its technology backbone and for adding new staffers, the company said.
In India, about 2.2 million tickets are booked daily. Of this, 30 per cent tickets end up being on the waiting list. "Based on our predictions, train travelers would be able to make 'intelligent, data driven decisions' on whether they should book a ticket or not," said Sripad Vaidya, co-founder of Confirm TKT.
Using artificial intelligence, the company also gives alternative suggestion to users on how they can increase chances of getting a confirmed seat. For instance, it asks users to go in for a break journey/change of train to benefit from quotas that different cities on the route may have.
Agarwala, a serial entrepreneur, currently heads several technology-led startups. In addition, he is the co-founder and CEO of BetterPlace safety solutions. For several years, he led the cloud-based computing division for SAP as vice-president. ConfirmTKT did not disclose names of the other investors who put money in this round.
ConfirmTKT was launched in July 2014 by Vaidya and Dinesh Kumar Kotha. Kotha handles technology while Vaidya leads analytic and operations at ConfirmTKT. Prior to starting this, Kotha was working with Bangalore-based O9 solutions while Vaidya was employed with Chennai-based ExcelaCom Technologies.
The company claims to have served 180,000 users on Android and 16,000 users on the Windows mobile platform. On the desktop version, ConfirmTKT claims to have attracted 350,000 unique users last year.
So how does ConfirmTKT plan to monetise its services?
"We would grow as a ticket discovery tool with the primary focus on showing people all the possible ways to travel with a confirmed ticket. Currently we show alternative travel options for trains and soon we will be into other modes of transport like buses and flights," said Vaidya.
The company also plans to partner with other online travel agencies to work as an affiliate. "We even have plans to launch taxi bookings on our app which would also drive revenue," he added.
ConfirmTKT competes with Trainman, which was founded last year by Mohammed Amir, an IIT Roorkee computer science graduate. Indiarailinfo.com also renders intelligence around tickets and trains.
---