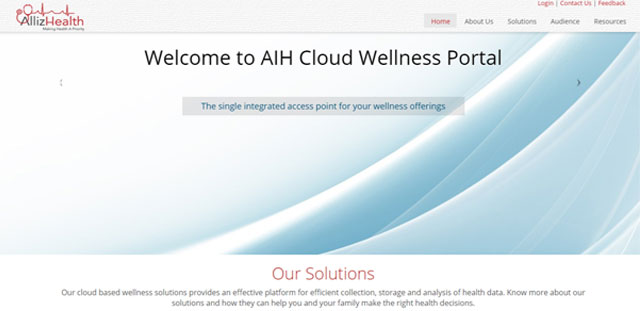 Pune-based preventive healthcare startup AllizHealth, which identifies a patient's health risks through health records, is planning to expand its footprint into West Asia and Southeast Asia within a year.
AllizHealth, which is run by Caressa Solutions Pvt Ltd, has countries such as Sri Lanka, Bangladesh, Malaysia, Thailand and Singapore on its radar, said Chinmoy Mishra, co-founder.
"A couple of investors have shown interest in taking the platform to the Middle East and Southeast Asia. Once we stabilise our operations in India and see some traction here, say within 12-14 months, we will launch services in international markets," Mishra told Techcircle.in.
Founded in 2013, the startup has built a repository of health information to predict trends. It also launched a web-based tool to record existing medical conditions, allergies, medications, prescriptions, surgeries, reports and clinical diagnosis.
Mishra claimed that Allizhealth has served 80,000 customers in the last six months. This translates into 12,000-13,000 new users every month. Allizhealth has an ambitious target of getting half a million users by the end of this financial year from 120,000 users presently.
The company's revenue targets are also aggressive. AllizHealth is looking at a 10-fold rise in revenue and aspires to clock Rs 2.5 crore this fiscal compared with Rs 250,000 in 2014, said Mishra.
AllizHealth generates revenue by sub-licensing its platform to insurance companies. Every time a user signs up, the company gets a fee. Secondly, when a user purchases a health pack from one of AllizHealth's partners, the company gets a commission. For the end customer, the platform is free to use. The startup also works with a number of healthcare providers where the entire service is offered on an annual subscription fee.
Practo, which is fast moving into the preventive health side, is the closest competition for AllizHealth in the Indian market today. Practo enables patients to find relevant doctors online and helps in comparing and scheduling appointments. It also sells PractoRay, a cloud-based practice management software for digitisation of clinics and wellness centres. On the other hand, AllizHealth's offerings come in at a later stage as it focuses on collection, storage and analysis of data to offer cloud-based wellness solutions. While Practo functions more in the administrative lines (by connecting doctors with patients), AllizHealth focuses on data analytics to offer wellness and preventive care.
"One of the ways in which we compete with Practo is by sticking to our core strengths. We have learned to say 'No' to things that are not our core strengths, even if they look lucrative," Mishra said.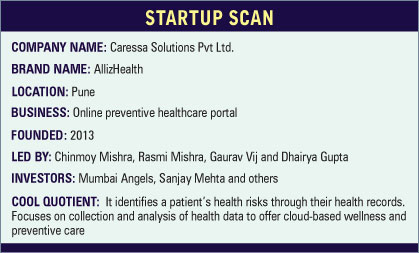 For instance, the company's next big bet is on building a completely mobile-based platform to create niche mobile services which communicates with the existing web platform. So far, AllizHealth's platform has been a web-based one; however, it is now investing heavily on the mobile app now. The first component of the mobile app, which is expected to be released by July-end, will be centered around women health. Later it plans to add mental health and many other such niche services to the app.
In addition to Practo, AllizHealth competes with startups such as eVaidya, Millman and Healthcaremagic, among others.
AllizHealth had recently secured $350,000 (Rs 2 crore) in a funding round led by Mumbai Angels. Aniruddha Malpani (medical director at Malpani Infertility Clinic), Hetal Sonpal (head, strategic alliances at Intel Corporation), Kishore Ganji (founder-CEO of Astir IT Solutions), entrepreneur-turned-serial investor Sanjay Mehta and Prashant Choksey (founder and CEO of Choksey Constructions and co-founder of Mumbai Angels) are among those who participated in this round.
"While historical data often depreciate in value over time, healthcare data are crucial for patient care. Under the mentorship of a group of noted investors such as Aniruddha Malpani, the startup can become a leader in the online preventive healthcare segment in India," said Mehta, a serial entrepreneur turned investor.
"Like other startups, AllizHealth has ambitious expansion plans. However, it will have to establish a strong footprint and business model in India before exploring international markets," Mehta, whose portfolio includes names such as Zippr Smart Address, AllizHealth, Prettysecrets.com, Poncho (Box8.in) and others, said.
AllizHealth will use a portion of the capital raised from the previous round of funding to build an analytics component.
AllizHealth will also use the money to build a network of collaborators or clinical partners who will support the company in delivering niche healthcare services such as its diabetic management programme. It has already tied up with a group of nutritionists for the same.
In a bid to fund its expansion plans, AllizHealth is in discussions with a number of Singapore and Mumbai-based venture capital firms. It plans to raise around $1 million.
AllizHealth was founded with a seed capital of Rs 150,000 by Chinmoy along with Rasmi Mishra, Gaurav Vij and Dhairya Gupta in 2013. An NIT Rourkela graduate, Chinmoy also holds an MBA from Babson College, Boston.
Prior to founding the startup, he had worked with a US-based technology and health insurance company Aetna. Chinmoy returned to India in 2008 and was associated with another healthcare venture before starting AllizHealth.
Vij, who holds a bachelor's degree from Amity School of Engineering and Technology, was previously associated with Fiserv, Infosys Technologies and Nitor Infotech. An engineer by training, Gupta also holds an MBA from Babson College. He previously worked with Siemens, Irving Oil and IBM.
---