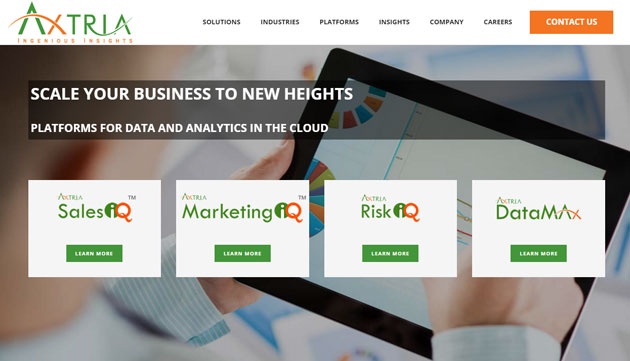 Axtria Inc, a US-based business analytics provider with significant presence in India through its Gurgaon office, has raised $30 million (Rs 190 crore) in its Series C round of funding led by Helion Venture Partners.
Existing investors Amar Sawhney and Rick Braddock along with Fred Khosravi and Gururaj 'Desh' Deshpande will also put money in this round, as per a press statement. Axtria will use the funding to raise headcount, build sales force, augment marketing and to develop newer products, the statement said.
Helion Venture Partners, an early-to-mid-stage venture capital firm, would invest about $15 million (Rs 95 crore) in this round.
"Analytics services is an over $20 billion market with plenty of headroom for growth. Axtria sits at the cusp of this revolution in analytics, with a unique blend of industry and functional domain, technology, analytics and services capabilities," said Sanjeev Aggarwal, co-founder and senior managing director of Helion, who would join the board of Axtria as part of the transaction.
Founded in 2010, by India-born brothers Jassi and Navi Chadha, the New Jersey-headquartered company provides consulting, outsourcing and technology solutions to help companies make better data-driven decisions in functions such as sales, marketing and risk management operations.
The Chadhas' first venture was MarketRx, considered to be one of the early success stories in the analytics space. MarketRx was acquired by Nasdaq-listed information technology services company Cognizant in 2007 for $135 million.
With proprietary analytical applications Axtria supports over 60 clients across the US in industries such as pharmaceuticals, financial services, retail and high tech among others. The company is readying to venture into Europe. In India, it operates from Gurgaon and serves clients through an onsite/offshore model. The company's cloud-based analytical applications have more than 10,000 users.
In 2010, Sequoia Capital led a $2.5-million Series A round of funding in Axtria. The firm then raised around $9-10 million across two tranches, SEC filings by the company shows.
The Series C round itself came in two tranches with the first having been sealed early this year while the second larger chunk was closed in May.
---