Online heathcare startup Lybrate raises over $10M from Tiger Global & Ratan Tata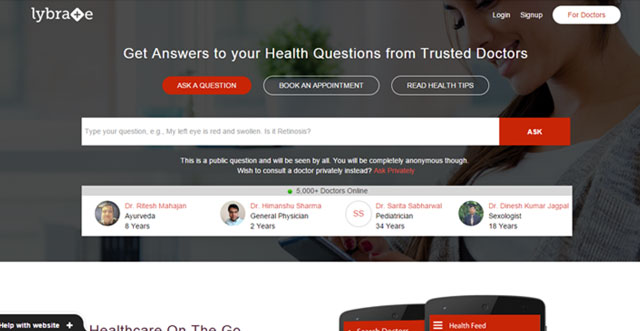 India and US-based Lybrate Inc, the company behind Lybrate.com, an online platform for patients to book appointments with doctors, has raised $10.2 million in Series A round from VC firm Tiger Global Management and Ratan Tata, chairman emeritus of Tata Sons, the company said on Wednesday.
Existing investor Nexus Venture Partners also participated in the round.

The company would use the funding to develop products, hire people, augment technology and expand operations.
"We see a significant user engagement on the subjects related to sexual health, women's health, psychological problems, especially depression, which means people want to have solutions regarding these. Through the Lybrate app, we want every Indian to talk about every possible health issue and take informed decisions," said Saurabh Arora, co-founder, Lybrate.
Lybrate is an online and mobile-based platform that connects patients to doctors. Patients can use the service for free to find trusted doctors recommended by other patients near their locations and also book an online appointment with them. Doctors use the platform to manage appointments, medical records, payment, billing and expenses for their clinics. The company was founded in 2013 by Saurabh Arora, Vispi Daver and Sandeep Singhal.

Its app was launched in January 2015 and since then, the company has connected over 80,000 doctors from various specialties across India.
Last year, Lybrate raised $1.23 million funding in two rounds from Nexus Venture Partners and other unknown investors.
Tata, who has recently appointed as a special advisor by Singapore-based VC firm Jungle Ventures, has been actively investing in startups since retiring as Tata group's chief. His latest investment was in Coimbatore-based electric bike company Ampere Vehicles Pvt Ltd.

Tiger Global, a hedge fund managed by industry mogul Charles Coleman, has invested in almost two dozen companies since January this year. It recently invested in music streaming firm Saavn.
---