Twenty five-year old Harsh Snehanshu and his sister were super excited about moving into their new two-bedroom apartment in South Delhi last summer.
However, the IIT-Delhi graduate's joy was short-lived as the taps of his apartment went dry the very next morning. Soon enough, water scarcity became a regular nuisance as the apartment sourced water from the same tank that was being used by a family of seven residing on the ground floor. Neither the broker who helped him connect with the landlord nor the landlord himself were of much help.
Snehanshu's bad luck with apartments followed him to France where he lived for six months as part of an exchange programme. "My room in Paris was near a public washroom and every time somebody used the flush at night, I would wake up with a jolt," said Snehanshu, who has also worked as a travel writer and literary reviewer.
Snehanshu's experiences are shared by thousands of tenants, especially students, every year.
"If previous tenants had reviewed the pros and cons of both apartments, the hassle could have been prevented. Moreover, an online review platform can make the landlord more accountable and swift," Snehanshu added.
Realising the need of a system using which tenants can get information on an apartment and its surroundings before moving in, Snehanshu teemed up two other IIT Delhi graduates Vivek Goyal and Kapil Verma to launch Flatabout Solutions Pvt. Ltd.
The company is currently in the process of developing the Flatabout app, claimed to be India's first mobile offering that collates and provides authentic reviews of flats and nearby facilities from current and earlier residents.
"We are trying to disrupt the way rooms are rented in India. The aim is to build something like a Tripadvisor for real estate or say a Truecaller for addresses," said Snehanshu, who is the CEO of the two-month old startup.
Reviews on Flatabout will cover every concern that a tenant has, be it a ventilation problem or the landlord's reluctance to allow a house party.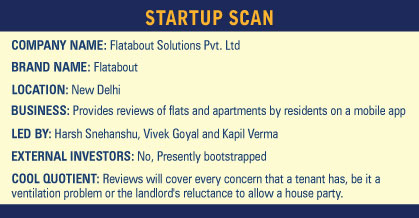 The snooty or over-curious nature of the landlord can also be highlighted.
"We are operating like a hyperlocal startup. Our first target will be students as they generally get stuck with substandard places since they have a shoestring budget," said Snehanshu.
The Flatabout app, which will be Android-based, is currently in private alpha stage. A formal launch will happen over the next few weeks.
While its easy to get reviews from disgruntled users, the company has laid out a novel plan to get intelligence from even those tenants who are satisfied with their apartments.
To make this work, Flatabout's data collectors will go to localities with high student concentration and collect reviews by giving away Freecharge coupons worth Rs 10. It plans to hire campus ambassadors who will ensure that reviews of their college mates come on the platform. For apartments where partying is allowed, Flatabout would sponsor a house party in the house and get friends and friends of friends to download the app.
So how does Flatabout plan to monetise the platform?
The Flatabout app will incentivise the outgoing tenant to find the next tenant so that the company can build a bank of reviews for apartments and landlords. Flatabout's model displaces the middleman out of the equation as the outgoing tenant performs the role of a broker himself and gets paid in the process.
"We charge 50 per cent of the brokerage for bookings done through Flatabout where tenants list at the time of vacating and acts as a broker himself.
Brokerage is 20 per cent of the market average and the money is wired only when the incoming tenant verifies the outgoing tenants review," said Snehanshu.
The company's business model also lends itself to in-app purchase of information. It also intends to provide individual address reviews to all the real estate portals at a fixed price.
Flatabout aims to clock 50,000 downloads by the current year end. The company is planning to go after pockets with maximum student population in Delhi. "We plan to go national next year around March, after achieving 100,000 reviews in Delhi," Snehanshu added Faltabout is scouting for angel funding to support its future plans. Would the company's business model arouse investor interest?
"It looks like a good concept, but the only challenge would lie in the business model execution as the tenant stays for a long time unlike hotel guests. Inventory discovery will be challenge," said Sanjay Mehta, an entrepreneur-turned-investor whose portfolio includes names such as Zippr Smart Address, AllizHealth, Prettysecrets.com and Poncho (Box8.in).
"I also sense that there is a flaw in Flatabout's monetisation model as most of the review sites are free," Mehta added.
Flatabout is keen to add new faces to its six-member strong team. Of the founding team, Snehanshu has worked with Frankly.me previously while Goyal, who serves as the chief operating officer, was fashion e-tailer Jabong's manager for market intelligence till recently. Verma is the company's chief technology officer.
---