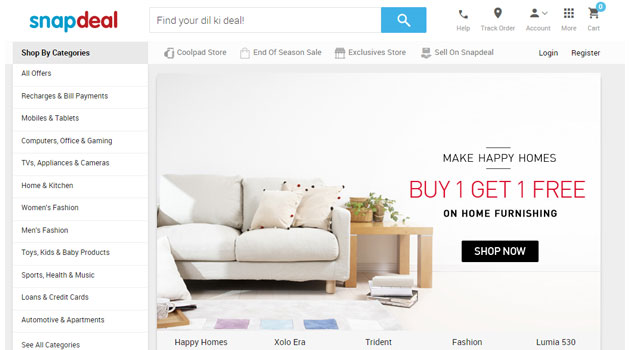 Snapdeal will now allow sellers to register for free and interact with buyers via chat messages, courtesy Shopo, its new 'zero commission' mobile-based marketplace.
Jasper Infotech Pvt Ltd-owned Snapdeal takes on the likes of Quikr, Olx and Paytm with Shopo, which allows individuals to become sellers at the click of a button for both new and used goods.
Kunal Bahl, co-founder and CEO, Snapdeal, said, "We are building the most impactful digital commerce ecosystem in the country and mobile is one of the key drivers fueling the growth of e-commerce in the country. In line with this, we have launched Shopo, a mobile-based open marketplace that will allow businesses as well as individuals to harness the power of the internet instantly and at zero cost."
Snapdeal had acquired Shopo in 2013 from Theygarajan S. However, it was kept in stealth mode.
Shopo allows a prospective seller of say, niche cakes or candles, to advertise their products on the online window to a shopper who is unsure of what he/she is looking for.
Shop owners can chat and sell to prospective customers, directly interact with prospective buyers on the platform and choose a mutually convenient mode of transaction as well as delivery.
Currently, the app offers 14 categories, including accessories, men & women apparels, beauty & cosmetic and electronics.
Shopo was functioning on a trial basis for the last 30 days before it was launched on Wednesday, Bahl said. He added that the app fetched 30,000 listings including those from 4,500 shop owners.
Bahl said that the app will gradually aim at 31.75 million SMBs across the country who are not selling their products online. The move is part of Snapdeal's strategy to get one million 'shops' or sellers online.
All indications are that Shopo, which is similar to the Alibaba model, would compete with the likes of Paytm (which has a zero commission model), Quikr and Olx (used goods marketplace for individuals), among others.
Snapdeal has emerged as one of the top three e-commerce marketplaces in the country along with Flipkart and Amazon. It is also the second-most funded tech venture in India behind Flipkart. In October 2014, Japanese telecom and internet firm SoftBank Corp (which is the single-largest shareholder of Alibaba) committed $627 million (Rs 3,846 crore) in Snapdeal. Its other investors include eBay, Kalaari Capital, Nexus Venture Partners, Bessemer Venture Partners, Intel Capital, Ratan Tata, BlackRock, Temasek, Myriad Asset Management, Tybourne Capital, PremjiInvest and Saama Capital. Some of them also put in fresh money at the same time.
Recently, Snapdeal has acquired payments and mobile recharge startup FreeCharge in a cash-and-stock deal. It also picked up stakes in digital financial services platform RupeePower and logistics venture GoJavas.
---