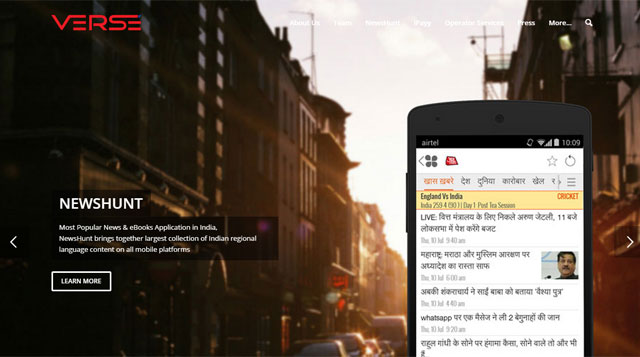 Bangalore-based Ver Se Innovation Pvt Ltd, the owner of local language mobile app NewsHunt among other businesses, has acquired Delhi-based Rocket Science Innovations Pvt Ltd, which runs e-commerce price comparison and recommendation platform BuyT.in, for an undisclosed amount.
"The BuyT team is expected to play a crucial role in building the next-generation platform for NewsHunt by integrating shopping and commerce options for local-language users on the NewsHunt platform, to add to BuyT's huge network of content publishers," NewsHunt said in a statement.
BuyT, which is owned and operated by Delhi-based Rocket Science Technologies, enables shoppers to search and compare product prices from 100 e-commerce portals. The platform covers product categories such as mobiles, television, apparel, shoes and cosmetics. It offers a step-by-step comparison of latest prices, shipping terms and product features from multiple e-commerce portals. One can also filter results on the basis of manufacturers, pricing and features.
BuyT competes with the likes of MySmartPrice, PriceBaba, PriceDekho, Junglee, Zopper and others. On Wednesday, MySmartPrice said it had raised fresh funding of $10 million from existing investors Accel Partners and Helion Venture Partners.
BuyT had raised $1 million from Delhi-based digital marketing firm ValueFirst Digital Media Pvt Ltd in 2013.
Felix Advisory acted as the financial advisor to Rocket Science Innovations on this transaction.
NewsHunt (earlier run by Eterno Infotech) was launched in 2009 by former Nokia employees Umesh Kulkarni and Chandrashekhar Sohoni. It is a platform for local language mobile internet users and has regional content in over 12 languages. It recently forayed into e-books with a marketplace for publishers. In 2012, Bangalore-based Ver Se Innovation acquired NewsHunt.
Founded in 2007, Ver Se Innovation develops mobile-based utilitarian value added services (VAS) for emerging markets. Its products include jobs, property, auto, mobile and education. The firm claims that it reaches out to over 400 million mobile users through its multiple suites of utility services. iPayy, another product from Ver Se Innovation, is a mobile carrier-based billing solution and provides easy-to-integrate software development kits (SDKs) and application programme interface (APIs) for partner merchants. In March, Ver Se Innovation had acqui-hired design and analytics startup Vauntz for an undisclosed amount.
Last September, Ver Se Innovation scooped up $18 million (around Rs 110 crore) in its Series B round of funding from Sequoia Capital, with participation from existing investors Matrix Partners India and Omidyar Network.
---