In May, hardware startup Inoho was scouting for a bunch of technicians to deploy its soon-to-be-launched smarthome solution. As Inoho's products help remotely control lights, fans and appliances, shoddy installation by a neighbourhood electrician could have been a marketing disaster for the fledgling firm.
Luckily, by the time Inoho's devices hit the market in June, it had managed to sew a partnership with Housejoy, a startup that provides common home repairs and maintenance services.
"We get a service and support network, Housejoy gets access to customers and customers get professional installation services," said Deepankar Garg, co-founder, Inoho.
The Inoho-Housejoy bonhomie is a classic instance of like-minded startups joining forces to feed off each other's strengths.
"There have been more attempts of late in building partnerships," said serial entrepreneur Ravi Gururaj, who heads Nasscom's product council. Gururaj, one of India's best-known startup evangelists, believes that such collaborations are needed to accelerate growth in users and revenues. In doing so, the competition is denied access to a key leverage point. "Lower marketing spend and increased branding too prompt startups to come together," he said.
At least half a dozen startup-to-startup partnerships have been announced in the last couple of months itself. Online realty firm PropTiger forged a tie-up with home décor specialist HomeLane under which those buying properties on PropTiger's platform will get discount of up to Rs 200,000 when they avail the latter's services. "For us, there is no immediate revenue generation out of this tie-up as we are offering this service to existing customers. But we are extending our relationship with customers through an offer even after the purchase was done," said Neeraj Chaturvedi, chief marketing officer, PropTiger.
While both companies see prospects of cross-selling, they agree that the fruits of this partnership may not be immediately visible.
A clear advantage would be higher traction on the search engine optimisation (SEO) front. There will be a clear maximisation in the number of visitors who flock the respective sites as they appear on each other's page. "SEO will accrue over a period of time," Chaturvedi said.
In fact, be it the Zomato-CommonFloor alliance or the Urban Ladder-Milap tie-up, consumer internet startups primarily seek SEO gains from collaborations.
How are such partnerships forged? In many cases, they are natural allies. "For enterprise software and SaaS-based companies, there aren't many partnerships. However, for platform-based companies, partnering is the very nature of business. So they are trying out different tie-ups to see what works for them better," said Sharad Sharma, co-founder of industry think tank iSPIRT (Indian Software Product Industry Round Table).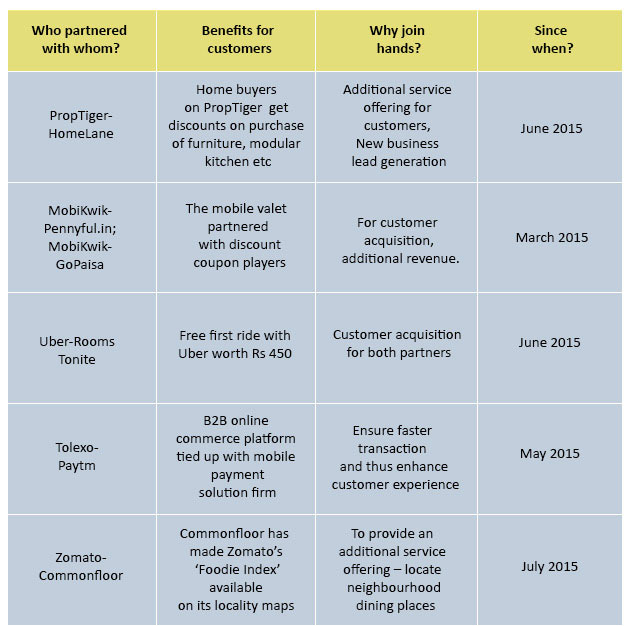 Many of these tech-enabled services have just emerged and to a large extent, their success rely on each other. For instance, online transport aggregators such as Shippr, Shifter, Porter and others get the bulk of their business from e-commerce firms Flipkart, Snapdeal, Quikr, OLX, Urban Ladder and Pepperfry.
Similarly, Hiree.com—which was till recently known as mynoticeperiod.com—generates a significant portion of its revenues from fellow startups. "Hundred plus startups are using our platform for hiring. It's a significant part of our business," said Manjunath Talwar, founder and CEO, Hiree.com.
In other words, such tie-ups create a multiplier effect by creating opportunities for innovative businesses. The good news is that many of these startups, driven by young entreprenuers, do not have procedural hassles compared with conventionally run companies. "We have partnered with many startups like Vakilsearch, Themis, Knowlarity, Exotel, Zoho, etc throughout our journey so far," said Talwar of Hiree.com.
Alliances in the startup world are forged in a quick fashion. Chaturvedi of PropTiger said his company cemented a deal with video-based Q&A platform Frankly.me within a week.
Many partnerships are formed through personal relations. For instance, Inoho is trying to work out a partnership with budget hotel startup Zo Rooms, to provide customers with control of hotel rooms through smartphone. Having worked together in Bain & Co, Garg of Inoho and Paavan Nanda of Zo Rooms are comfortable in joining hands.
Likewise, many founders share an informal personal bonding by virtue having been classmates, former colleagues or friends at some point.
"Hopefully they will result in better, lower cost, more accessible offerings. Only the best executed partnerships that deliver differential value to consumers will sustain themselves," said Gururaj. "There is tremendous potential for innovative partnerships and bundled offerings," he said.
Anand Lunia, founder of seed stage venture capital firm India Quotient, believes that many partnerships happen because of scale benefits. "Many such partnerships emerge not just because they are startups, it is because some of them have reached critical size and reach. For instance, a FreeCharge or Paytm will have user base comparable to that of big banks. It makes sense for others to partner with them," said Lunia.
The flip-side is that partnership can sometimes be tricky, especially for smaller startups. "When startups forge partnership, the established bigger ones may sometimes play 'big brother'. The established firms can always afford to walk out of a partnership. The smaller ones engaging with them should be prepared not to get affected in case of such eventualities," cautions Lunia.
PropTiger is part-owned by News Corp, which acquired the parent of this news website in March.
---