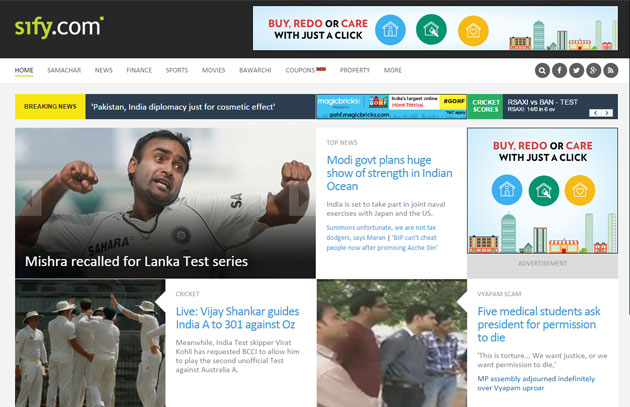 NASDAQ-listed Indian internet and IT services firm Sify Technologies Ltd has reported a 66 per cent rise in cloud and managed services services while its internet business grew by 16 per cent for the first quarter ended June 30 over the year-ago period.
Total revenue for the quarter was up 15 per cent to Rs 340.7 crore while net profit slid by 25 per cent to Rs 8.5 crore, as per a press statement.
"Our strong topline performance has continued into the first quarter of the new year, which has also translated well into equally strong EBITDA growth. However, our continuing investment in the core assets to support this level of growth has resulted in a modest drop in net profit," said M P Vijay Kumar, Sify's chief financial officer.
"While continuing to support the investment required for sustainable growth, our primary financial focus is on optimal asset utilisation and alternate means to lower operational costs," Kumar added. The company has been making continual investments in its data centre and networking business.
In the quarter gone by, Sify brought into production a 22,000 sq ft data centre server farm space in Navi Mumbai, Maharashtra.
During the quarter, Sify was awarded a major contract from a global OTT player to provide services across two cities. The company says that it continues to acquire customers in the e-commerce and logistics verticals, as these firms ramp up their supply chain into tier two and tier three cities.
"Our focus on multi-year and multi-services projects with our customers has guided us to a continued growth path over the last multiple quarters including Q1 of financial year 2015-16. Enterprises are increasingly adopting 3rd Platform as the chosen model for IT infrastructure services and that's a positive sign for Sify," said Kamal Nath, chief executive officer. The concept of 3rd Platform, as espoused by research firm IDC refers to IT built on mobile devices, cloud services, social networks and big data analytics.
The company's data centre business acquired 40 new customers from different business verticals, it said.
---