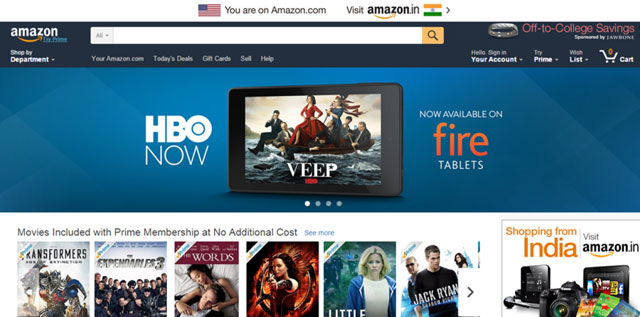 Amazon.com Inc posted a positive earnings surprise in the second quarter ended June 30, 2015 which set its share price on fire helping it scale past Wal-Mart and Alibaba as the most valued retailer.
Wal-Mart is the largest retailer by sales while China's Alibaba is the world's top e-commerce firm by gross merchandise value (GMV).
The NASDAQ-listed e-commerce giant's share price closed at $482.18 each ahead of its results but rocketed close to 18 per cent in after-market hours and is expected to sport a market capitalisation of around $267 billion. Wal-Mart had a market cap of $235.6 billion while Alibaba was valued at $211.4 billion on Thursday.
Having celebrated its 20th birthday last week, Amazon, known for reinvesting its cash to grow its business rather than show quarterly profits to assuage investors, posted $92 million in net profit last quarter compared with a net loss of $126 million in the corresponding year-ago period.
Its revenues grew 20 per cent to $23.18 billion. Excluding the impact from year-over-year changes in foreign exchange rates throughout the quarter, net sales increased 27 per cent in the same period. Sales growth was led by its home market that grew 26 per cent. International e-commerce sales that comprise a third of total business rose just 3 per cent in dollar terms, partly affected by forex fluctuation and stronger dollar.
Amazon Web Services (AWS) was the star performer growing revenues by a staggering 81 per cent in the second quarter and pushed its contribution to overall revenues to 8 per cent against 5 per cent in the quarter ended March 31, 2015.
Operating income was $464 million in the second quarter, compared with operating loss of $15 million in second quarter 2014.
It gave a guidance of 13-24 per cent growth in net sales in the third quarter. Amazon said it expects to churn anywhere between operating profit of $70 million to operating loss of $480 million against operating loss of$544 million in third quarter 2014.
Reflecting on the results, Jeff Bezos, founder and CEO of Amazon.com, reiterated that India is its fastest growing geography.
India talk
Amazon's chief financial officer Brian Olsavsky said in a post-earnings conference call: "What I can say about India is when we see a positive surprise we double down on it. That's kind of our policy, and India is that kind of surprise. So we're very happy, very encouraged early on with what we've seen in the ramping of the business, the level of invention going on for both customers and sellers."
"I will not get into specific investment levels right now but we continue to ramp up our investment there (in India)", he added.
Last year, Amazon unveiled plans to invest $2 billion in its Indian operations just hours after top local rival Flipkart secured $1 billion from investors.
The US-based online retailer has heavily invested in India for building warehouses and data centres and it claims to be the top e-tailer in terms of assortment of products. It claims to have 25 million products in the country-specific marketplace.
Last year, Bezos had said India was on track to be the fastest country to generate $1 billion dollars in gross sales for the company. Unlike its global business where it sells products directly, in India it offers a platform for third-party vendors to sell to consumers to comply with local ban on FDI in retail e-com. It, therefore, does not draw a large chunk of net sales from India and the revenues are largely limited to listing fees and other services such as logistics and warehousing provided to the merchants.
It, however, does sell on its platform as one of its many vendors through a JV with Catamaran, the private investment firm of Infosys co-founder N R Narayana Murthy.
It has also been looking to invest in third party Indian tech firms. Chennai-based A & A Dukaan Financial Services Pvt Ltd, which sells third-party financial services products through the online platform BankBazaar.com, recently raised Rs 375 crore ($59.1 million) in Series C funding from Amazon and other investors.
It is also investing in its cloud service business. Amazon Web Services (AWS) announced that it will open a new region in India in 2016, which will enable customers to run workloads in India and serve Indian end-users with better latency.
---