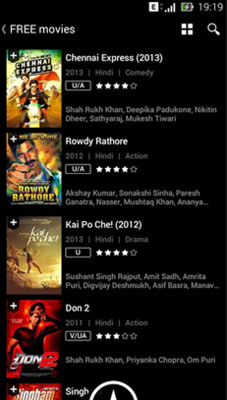 Mumbai-based Hungama Digital Media Entertainment Pvt Ltd, a mobile and digital entertainment company, has launched a new app that offers a library of over 6,500 movies on mobile phones and tablets.
The app, which is already live on Android, will be available for a monthly subscription of Rs 249, as per a press statement.
The movies on this platform will be spread across 19 genres and 12 languages. The app also features game mechanics wherein users can earn points and redeem them to buy digital goods. It also has 'Adaptive Streaming' features which allow users to stream seamlessly through WiFi, 3G and EDGE.
Humgama Play comes bundled with an array of features to let users choose the way they want to watch movies. With the 'Try and Buy' feature, users can watch the trailer and the first 10 minutes of the movie before subscribing to watch the whole movie. With the 'Rent' feature, users can watch the movie over seven days. Opting for the subscription will allow users to access the entire library for 30 days.
"For over a decade, Hungama has been synonymous with entertainment right from the time of caller tones and WAP-entertainment to today with our music streaming service. With Hungama Play, we aim to add a new dimension to entertainment that we provide to our digital consumers. With support from both Indian and international studios, Hungama Play launches with over 6,500 titles across languages. I am sure that consumers will enjoy the experience we have built into Hungama Play and the wide catalog of movies," said Neeraj Roy, CEO and MD of Hungama.
Launched in 1999, Hungama runs a clutch of businesses, including mobile marketing and entertainment content, gaming and online advertising. It creates and pushes Bollywood content on the mobile screen.
It runs Bollywood Hungama, a Hindi film and music site, formerly called IndiaFM.com that it acquired in 2000.
Earlier, WPP promoted advertising and marketing agency JWT Singapore had acquired a majority stake in the company's digital and promotions marketing unit Hungama Digital Services for an undisclosed amount.
---