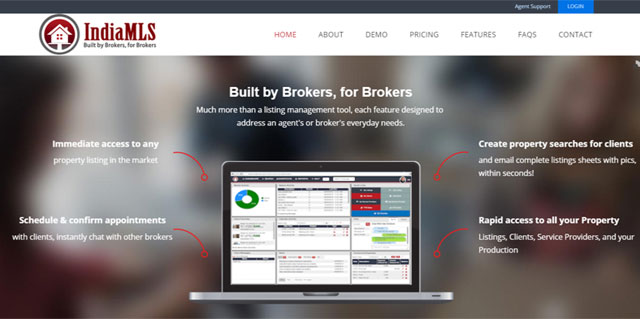 Multiple listing online platform for real estate brokers IndiaMLS, run by IndiaMLS Systems Pvt Ltd, has received seed funding of $1.09 million (Rs 7 crore) from a group of high net-worth individuals, including Mumbai-based real estate businessman Dhaval Bharot.
Founded in May by Jay Patel (CEO) and Hari Kondlapudi (CTO), who worked in the real estate and technology industries in India and the US, IndiaMLS is a platform to help real estate brokers upload property listings to a common network.
It is a membership-based software platform aimed at forming an online network of brokers. "The system is designed to increase brokers' efficiency, help then save money and bring structure and standardisation in the real estate market," it said in a release.
IndiaMLS, a  mobile and desktop software solution, is the latest entrant in India's online realty space which has of late witnessed the emergence of a slew of companies including business to consumer listing and transaction companies News Corp-backed PropTiger.com, SoftBank-funded Housing.com and Tiger Global-backed CommonFloor.com. These are in addition to smaller players such as NoBroker.com, Homers.in, and  Grabhouse.com which aim to eliminate brokers.
CEO Patel said it is created solely for the brokerage community. "The portals currently in the market are not our competitors as we serve a different set of clients," he said.
He claimed IndiaMLS is designed similar to US firm CoStar Group, which is currently valued over $7 billion.
News Corp, which acquired the parent of this website, owns 30 per cent stake in PropTiger.com.
---