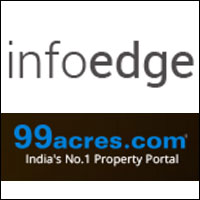 Info Edge (India) Ltd, which runs a slew of internet properties such as Naukri, 99acres, Jeevansathi and Shiksha among others, saw its share price get battered as net profit sank by over a quarter due to losses logged by its property listing venture 99acres.com.
The firm reported a standalone net profit of Rs 28.7 crore for the quarter ended June 30, 2015 compared with Rs 39.8 crore in the year-ago period. This was despite 18.5 per cent rise in net revenues to Rs 171.79 crore over the year-ago period.
The poor profit numbers is largely attributed to its marketing costs associated with 99acres.com. Although the firm did not give separate marketing-related expenses for its business units, high pitched competition in the online real estate classifieds space is believed to have particularly pushed up the total advertising and promotions costs for the firm almost three-fold last quarter over the corresponding period last year.
Indeed, the segment losses booked by 99acres.com wiped off almost two-thirds of the profit generated by the cash cow recruitment solutions business last quarter. 99acres.com, which clocked a segment loss of Rs 37.4 crore in the twelve-month period ended March 31, 2015 with revenues of a little over Rs 100 crore, recorded a segment loss of Rs 36.14 crore in last quarter alone. It drew upon Rs 10 crore from the Rs 750 crore it raised last year through a QIP, largely to invest in 99acres.com. The firm still has close to Rs 720 crore from the QIP as a balance.
This means 99acres.com lost the same money in the past three months as it did in the whole of last financial year. This happened without any significant bump in revenues. Its segment revenues was pegged at Rs 25.28 crore in the first quarter.
Its recruitment solutions business which captures business from Naukri and associated sites, rose around 20 per cent to Rs 124.72 crore in revenues with segment profit rising from Rs 53.7 crore to Rs 63.9 crore.
Standalone results of the company include revenues from its primary recruitment business Naukri.com, Jeevansathi.com, 99acres and Shiksha.com.
It does not factor in financial performance of its subsidiaries- Naukri Internet Services Pvt Ltd and Jeevansathi Internet Services Pvt Ltd (which own Internet domain names of Naukri.com and Jeevansathi.com, respectively, as well as related trademarks, while operations are under the parent company), Allcheckdeals, Applect (Meritnation.com) and Zomato.
The company also has significant investments in a number of internet companies including policybazaar.com, Canvera.com, mydala.com and happily unmarried.com.
Info Edge's 99acres.com competes with a slew of sites including MagicBricks, CommonFloor, Housing and PropTiger. News Corp, the owner of this news website, owns 30 per cent stake in PropTiger.
---