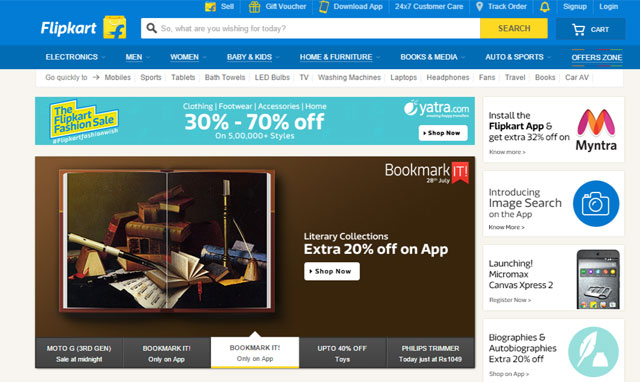 India's largest e-commerce venture Flipkart will now allow its customers to pick up their orders from 20 offline collection centers across the country.
Fliipkart's decision to explore this alternative model has been triggered by factors such as unavailability of users to collect orders at delivery time and entry restriction of its delivery boys to gated communities, IT parts and education services.
"Our efforts are focused on expanding our delivery network without compromising on the customer service levels and expectation," said Neeraj Aggarwal, Senior Director (Delivery Operations) at Flipkart.
The 'experience zones', as Flipkart names it, are launched in conjunction with its logistic arm eKart. These centers will also offer value-added services such as assisted buying, spot trials, open box deliveries, cash on returns, instant returns and so on.
In the first phase, Flipkart has opened experience zones across 10 cities such as Bangalore, Mysore, Vellore, Pune, Delhi, Gurgaon, Kolkata, Vadodora, Surat and Ahmedabad. It plans to open 100 such stores by March 2016.
The company has been piloting this model for about six months now.
Flipkart said that the experience zones will play a key role in its rural expansion strategy. The company plans to expand such centers into tier four towns and rural areas going forward.
Globally, customer pickups of orders are allowed by e-commerce giants. The world's largest e-tailer Amazon had launched Amazon Locker in 2011 which allowed customers to retrieve their packages at a local locker location using a personal code. The company also has thousands of pickup points across Canada.
---