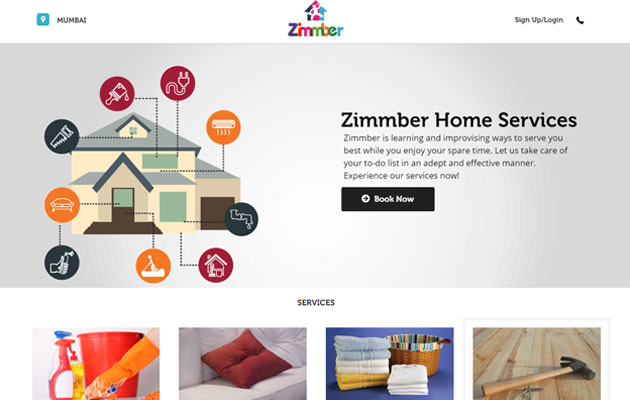 Mumbai-based Rejuvenate Solutions Pvt Ltd, the company behind on-demand home services platform Zimmber, has raised just under $2 million (around Rs 12 crore) in pre-Series A funding round from IDG Ventures, Omidyar Networks, Ram Shriram's (founding board member of Google) Sherpalo Ventures and TV Mohandas Pai's (chairman of Manipal Global Education and former Infosys director) Aarin capital.
Zimmber will use the money to add more service categories, develop its technology backbone and expand into 37 new cities by next year, as per a company statement.
"Local services is an unorganised market in India. This platform will deliver a plethora of services that one needs everyday but not sure where to find. To solve this using technology is the challenge. The mobile first approach combined with the operational experience of the founding team is what got us excited about the opportunity," said Ranjith Menon, executive director at IDG Ventures India.
Zimmber is an online platform that helps users book home services for needs such as fixing a dripping flush tank, repairing an electrical glitch, or installing an air conditioner. Zimmber has identified frequently-occurring problems and listed them on its site. If the problem is unique, then the platform will help the user to define it. Once booked, the firm will contact the user to confirm his/her availability, before Zimmber sends a service provider to his/her home/office.
The startup was founded last year by Anubhab Goel, along with Gaurav Shrivastava and Amit Kumar. Goel is an engineer who had earlier co-founded PeopleStrong HR Services. Kumar, an engineer and management graduate, worked in companies such as L&T and KBR before this. Shrivastava, an engineer, previously worked at First Quadrant Solutions.
Last month, Zimmber secured, $400,000 from InMobi co-founders Naveen Tiwari, Mohit Saxena and Amit Gupta, along with InMobi's chief product officer Piyush Shah and others. Prior to this, Zimmber had raised an undisclosed amount from a bunch of other angel investors.
Recently, Zimmber also acqui-hired Dhulai, a Mumbai-based startup that provides laundry services for an undisclosed amount. Acqui-hire refers to the buy-out of a company primarily for the skills and expertise of its staff, rather than for its products or services.
Companies that operate on an hyperlocal services marketplace model have attracted tremendous investor attention this year.
Zimmber's rival UrbanClap received funding of $10 million from SAIF Partners and Accel Partners last month.
Other companies which raised funding include LocalOye (Tiger Global and Lightspeed), Qyk (Zishaan Hayath, co-founder, Toppr.com; Abhishek Goyal, co-founder, Tracxn.com; and Delhivery co-founder Sahil Barua), Near.in (led by Anupam Mittal, CEO of People Group, and Manish Vij of Smile Vun Group), FindYahan (led by Karan Bajwa, managing director of Microsoft India), TaskBob (Orios Venture Partners & Mayfield India) and UrbanPro.com (Nirvana Venture).
Till recently, the fragmented and unorganised local services market was being served through local business listing firms such as Just Dial. In that model, users received phone numbers and also got direct calls from professionals/service providers after they posted their requirements.
Just Dial is also transitioning from being purely a provider of local search and related information to being an enabler of such transactions. Currently separate set of firms cater to products related sales (e-commerce) and booking local services. Just Dial is trying to integrate both in a single platform leveraging on its deep penetration with local businesses service providers.
For Sherpalo, one of the co-investors in Zimmber, this is the first new investment in India in three years. However this is a one-off new investment in the country and the firm is not expected to restart its operations in India.
Last year its former head of Indian operations Sandeep Murthy had quit the firm to float an independent VC firm Lightbox.
Lightbox started operations with two funds, one of which had picked stakes in around half a dozen firms by buying existing investments of Sherpalo and KPCB through a synthetic secondary transaction. Lightbox went on to raise $100 million in its second fund.
Sherpalo had sold its stake in Cleartrip Travel Services Pvt Ltd, which runs the online travel booking site Cleartrip.com, among other Indian tech ventures as part of the above mentioned transaction.
---