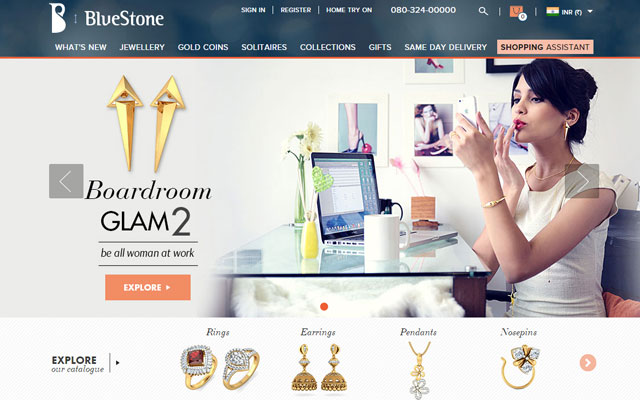 Online jewellery retailer BlueStone.com is gunning to at least double the annualised gross merchandise run rate rate on its platform by this year-end.
"Our current annual GMV run rate is around 100 crore. We achieved that mark in April this year. However, the way we are growing, I believe we would be able to achieve the target of Rs 200-250 crore run rate by the end of fiscal 2015-16," Gaurav Singh Kushwaha, co-founder and CEO of the company, said.
BlueStone, which is run by Bangalore-based Jewels Online Distribution India Pvt Ltd, is planning to hire 600-700 more staffers to maintain its growth momentum.
"We are selling 250-275 units per day. Our average order value ranges between Rs 15,000-16,000," Kushwaha added.
The company recently raised $16 million in a fresh round of funding in a round led by IvyCap Ventures and Dragoneer which also saw participation from existing investors Accel Partners, Kalaari Capital and Saama Capital.
Last September, Ratan Tata, chairman emeritus of Tata Sons, made a personal investment in BlueStone. This was one of Tata's earlier investments in the technology space. He has become an active private investor in several tech ventures both in India and abroad lately.
"I meet Tata once a quarter and we discuss about the company's progress and other developments. He has a strong interest in the consumer internet space and he is keen to understand how the e-commerce sector is and how companies belonging to this sector work," Kushwaha said.
"Tata understands the jewellery business better than almost anyone in the country," he added. Tata Group owns the Tanishq brand of jewellery chain.
BlueStone offers a range of jewellery under five categories, including earrings, rings, pendants, bangles and bracelets. The firm, which used to source the merchandise from third-party manufacturers, now also manufactures products on its own.
"We are not a retailer but a product brand. We are very cautious about what we are presenting to our clients. So, our in-house team designs and manufactures jewellery products," Kushwaha said.
Talking about the entry of large horizontal e-commerce firms in the jewellery space where Caratlane and BlueStone are among the most prominent players in the vertical, Kushwaha observed: "I don't think that Flipkart and Amazon are the right marketplace for jewellery shopping."
Institutional brokerage firm CLSA Asia Pacific Markets predicts that the e-commerce market for online jewellery would grow to $22 billion by 2018 globally.
Before BlueStone, Kushwaha had served as the CEO of Chakpak, an online entertainment portal, which he co-founded in 2007. He grew Chakpak.com to over 3 million users a month in under two years. In November 2011, Flipkart had acquired the digital catalogue of Chakpak and few months later Trivone Digital acquired Chakpak as a website.
---