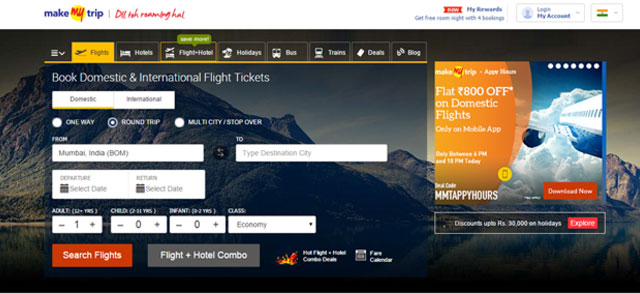 The country's top online travel agency MakeMyTrip Ltd has invested $5 million (Rs 32 crore) to pick a majority stake in a stealth mode startup Bona Vita Technologies Pvt Ltd founded by Amitabh Misra, who quit as CTO of e-commerce marketplace Snapdeal in February.
It did not give details of Bona Vita but said it intends to use the cash to build differentiated products in the travel industry.
This is the second such deal by MakeMyTrip this month after it invested $15 million in HolidayIQ. None of these investments was from MakeMyTrip's Innovation Fund, which was formed to invest up to $3 million in startups or early-stage companies in the travel technology space.
Early this year, MakeMyTrip had acquired 18 per cent stake in Inspirock Inc, an online planning tool for developing customisable itineraries, as part of its investment from this Innovation Fund. This was the third investment by MakeMyTrip's $15 million Innovation Fund after it acquired certain assets of Mygola.com and picked a small minority stake in Bangalore-based travel tech startup Simplotel Technologies Pvt Ltd.
Financials
Meanwhile, MakeMyTrip reported a slow net revenue growth of just 7.5 per cent (14.7 per cent in constant currency) for the first quarter ended June 30, 2015 over the year-ago period. This was due to a mere 2.8 per cent rise in net revenues from hotels & packages segment (10.4 per cent in constant currency). Net revenues from the air ticketing business rose 10.8 per cent (17.6 per cent in constant currency).
Overall net revenue as captured by revenue less service cost, a key metrics for OTAs like MakeMyTrip, rose 27.5 per cent (28.4 per cent in constant currency) in Q4 FY15 and 36.3 per cent in Q1 FY15.
Net revenues for the last quarter stood at $38.1 million.
Overall revenues declined 1.2. per cent (rose 5.2 per cent in constant currency) to $93.6 million in the quarter while gross bookings, which represent the total amount paid by a customer while booking on its platform, rose 8.3 per cent (15.6 per cent in constant currency) to $467.8 million.
In terms of operating stats, booking transactions in its hotels & packages segment rose 14.4 per cent to 430,100. This was overshadowed by a robust 45.6 per cent rise in air ticketing transactions that rose to 1.6 million last quarter. The transaction growth in air ticketing business was largely driven by special fares offered by Indian domestic carriers. The firm also saw its net margins from the air ticketing segment shrink from 5.8 per cent in Q1 FY15 to 5.5 per cent last quarter.
Net margins in the hotels & packages segment, however, increased from 11.9 per cent in the quarter ended June 30, 2014 to 13.3 per cent. This was also in line with net revenue margin of 13.2 per cent for the fiscal year ended March 31, 2015.
Operating loss almost doubled from $3.4 million to $6.1 million while adjusted operating loss (excluding employee share-based compensation costs, merger and acquisitions related expenses and amortisation of acquisition related intangibles) stood at $1.6 million compared with operating profit of $0.3 million in the quarter ended June 30, 2014.
Net loss was $6.9 million against loss of $3.9 million in Q1 FY15 while adjusted net loss (excluding employee share-based compensation costs, M&A related expenses, amortisation of acquisition related intangibles, net change in value of financial liability in business combination, and income tax benefit) was pegged at $2.2 million against a nominal adjusted net profit $0.19 million in the year-ago period.
Deep Kalra, group chairman and CEO, said the firm was able to leverage investments on the mobile channel and in the hotels segment, to drive 78 per cent transaction growth in India standalone online hotels fuelled by an over 200 per cent growth on transactions coming from mobile channel during this quarter.
He added: "This makes us believe that it's the right time for us to focus on accelerating transaction growth in the Hotels and Packages business to grow our market share in this strategic segment with a view of consolidating long-term market leadership in the OTA space."
For the full year ending March 31, 2016, the company has slashed its net revenue growth guidance to 10-15 per cent as against the previous forecast of 22-26 per cent (in constant currency).
The company's share price crashed with the firm losing close to 20 per cent of its value on NASDAQ in early trades after it announced the results.
The company said it would entail additional marketing investments and pricing trade-offs for aggressive acquisition of hotel customers. "This combined with margin pressure in air ticketing business could lead to modest year on year net revenue growth," it said.
The company has now started giving transaction growth guidance for its key hotels business as an additional statistics to its investors. It said hotels and packages transactions is expected to rise 50-55 per cent (excluding Easytobook.com which caters to hotel bookings outside India) and India standalone online hotel transactions is expected to rise 75-100 per cent this year.
---