Amazon-backed QwikCilver merges GiftBig with newly launched online gift store Woohoo.in for mobile first play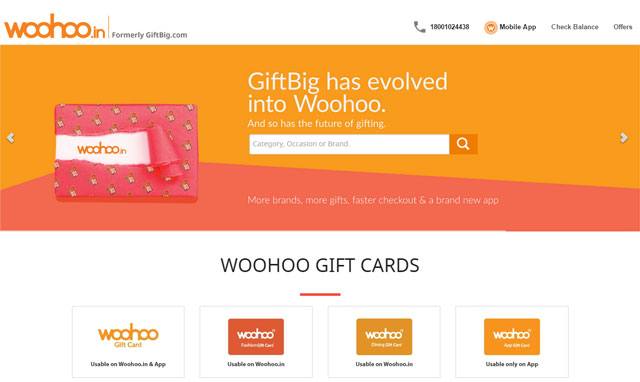 GiftBig.com, run by Bangalore-based QwikCilver Solutions Pvt Ltd, has been re-branded to woohoo.in, as it seeks to morph into a mobile-first online gifting superstore for consumers.
"The (new) platform offers a mobile gifting experience with a wide range of gifting options, instant gifting delivery and multiple modes of gratification. Giftbig.com, the e-commerce site for gift cards will seamlessly migrate into Woohoo.in. The consumer base of Giftbig.com would be redirected to our new Woohoo.in site," said Pratap TP, co-founder and CMO of QwikCilver.

The company will continue to provide the back-end technology for B2B transactions related to plastic gift cards, loyalty cards, code programmes and social media gifting of various brands, said Pratap. Moreover, the desktop version of woohoo.in will also lend itself to gifting transactions.
Pratap further stated that Woohoo is looking to add more than 1,000 new brands across categories in the next one year.
Woohoo.in provides consumers with gift cards of reputable brands that can be redeemed at online and offline stores. These can also be used to shop on Woohoo mobile app, which was launched in May this year to enable aggregation of payment options and to pay retail outlets through mobile. The app allows retailers to accept multiple currencies. Similarly, it would allow currency partners like Oxigen wallet and loyalty rewards programme points under Payback to be accepted across thousands of retailers.

Qwikcilver was founded in 2008 by the duo of Pratap and Kumar Sudarshan. It works on a Software-as-a-Service model (SaaS), enabling customers to launch the stored value card program with minimal upfront investment and provides suite of services to create, deploy and manage the programme.
Last year, the company had raised $10 million in a funding round led by e-commerce giant Amazon. The firm's existing investors Helion Venture Partners and Accel Partners also participated in the round.
The company claims that the Qwikcilver network has grown by 300 per cent year-on-year in the last four years and that it currently processes over 50 million transactions across physical cards, digital cards and mobile-based engagements.

At present the gift-card market in India is estimated at $500 million (over Rs 3,000 crore) and projected to treble over the next two years.
Recently, Mumbai-based GCI Network Pvt Ltd, the company behind the online gifting platform GiftCardsIndia, had raised an undisclosed amount in funding from Blume Ventures and Google India head Rajan Anandan in December last year. It also acquired social gifting venture Giftery for an undisclosed amount.
---