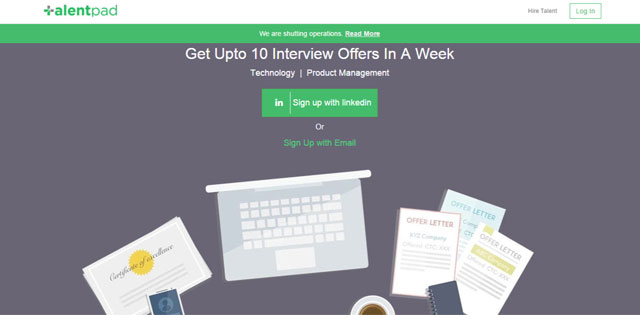 Helion Venture Partners- backed TalentPad.com (formerly known as Talent Auction), a Bangalore-based curated marketplace for technology recruitment, is closing down its operations.
In a blog post, the company attributed the move to its inability to figure out a scalable business model.
"With a very heavy heart, we wish to inform you that we at TalentPad are shutting our operations effective immediately. One of the things that our entire team has been passionate about is making a big impact to a wide ranging audience. We could not figure out a way to achieve that," the blog post read.
"Unfortunately, no new profiles will be going live on our platform post today, but you can always give interview offers to candidates that are currently live," the company said.
The company was founded by IIT and IIM alumni Mayank Jain, Nikhil Vij and Raghav Jain last year. Mayank and Raghav had previously formed a startup in the social referral space called Zobtree which was shut down later. Before that, Mayank was an entrepreneur In residence at Smile Group. Raghav was an equity research analyst at JP while Vij was a quantitative analyst at Morgan Stanley.
None of Talentpad's founders could be reached for more comments till the time of writing this report.
TalentPad had raised an undisclosed sum in its first round of institutional funding from Helion Venture Partners in October last year. Later in May this year, TaletPad had acquired OptimizedBits, a tech recruitment platform, for an undisclosed amount.
How it worked
Talentpad required candidates to submit a detailed profile for approval. Once the TalentPad team evaluated the candidature, handpicked candidates were asked to participate in a week-long auction process called Talent Fair, where employers compete to hand interview offers online. Post that, the candidate could decides where to be interviewed and the interview process would start.
In May, TalentPad had claimed that it worked with over 200 companies including names such as Housing.com, Flipkart, Zomato, Myntra and InMobi.
---