Groupon cedes control of Indian arm to Sequoia, local management; rebrands to Nearbuy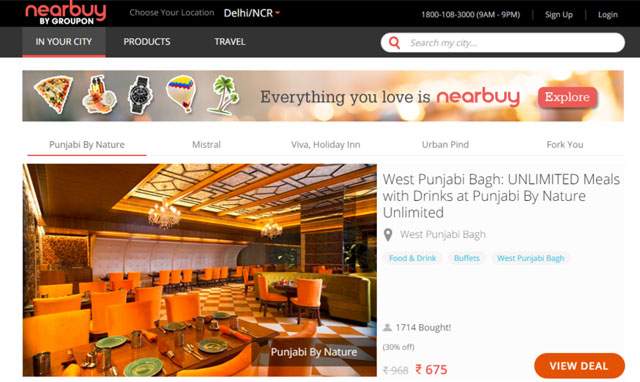 In a management buy-out styled transaction, NASDAQ-listed deals aggregator Groupon Inc has ceded majority stake in its India unit to venture capital firm Sequoia Capital and the top management of Groupon India.
Management buy-outs, where the top executives of a company buys out the firm they work in from the promoters, often involves a private equity firm buying a large stake. It is rare for a venture capital firm to back such a buyout.

The Groupon India deal follows an investment of $20 million (Rs 126 crore) into the company by Sequoia Capital early this year. Techcircle.in had reported in April that the venture capital firm invested in Groupon India and has committed to invest more in an unusual deal involving a multi-national firm. This transaction has now been publicly disclosed.
"The potential of the Indian market is huge—our decision to bring in Sequoia is expected to provide the additional resources our India business needs to grow and become a true local commerce leader," said Groupon CEO Eric Lefkofsky.
"We look forward to watching the business grow and evolve as a continued shareholder in the company," he added.

The firm said Groupon's Shared Service Centres in Chennai and Bangalore will remain under the sole control and operation of Groupon.
Groupon did not share details of the deal but the investment transaction involves Sequoia buying a majority stake in Groupon India along with its top management. Groupon India has now been re-branded, said Ankur Warikoo, chief executive officer of Nearbuy who was serving as CEO of Groupon India for the last four years. He had taken over after the founders of SoSasta, the venture Groupon acquired to kick-start its Indian operations, moved out of the firm.
Groupon's existing site is still active while Nearbuy has been created as a separate co-branded property. It sports a sign saying 'Nearbuy by Groupon'.

"During the course of building its India operations, which has become one of the fastest for Groupon globally, Groupon realised that the India opportunity is massive and the team here has the execution capability to pull this off. The new arrangement will help us to grow much faster in India," said Warikoo.
Nearbuy offers hyperlocal services across categories such as food and beverage, travel and wellness besides products, the same as Groupon India's existing site. Nearbuy will expand the service to 30 cities from 12 at present.
"Nearbuy's aim is to facilitate transactions in the offline space and dominate the services vertical. We wish to become the de-facto commerce player for every service in this country, be it eating out, watching a movie, going to a spa and so on," Warikoo said.

Moreover, Nearbuy will aggressively push for adoption of its mobile platform while retaining the desktop version.
"Mobile has been a key driver, accounting for over 40 per cent of Groupon India's business. With Nearbuy, we expect that to go up to 100 per cent," said Warikoo.
In addition to Warikoo, the 'Nearbuy' leadership team will comprise five other co-founders, namely, Sumeet Kapur – CFO, Snehesh Mitra – CTO, Sachin Kapur – CMO, Ankur Sarawagi – CBO (travel & products) and Ravi Shankar – CBO (local commerce).

Founded by Andrew Mason in 2008, Groupon created a niche for itself as a group buying site. Once known for its daily deals that went into subscribers' inbox through email, Groupon has undertaken a fundamental shift in strategy with focus on e-commerce and mobile applications. Groupon is also looking at various monetisation options, including an outright sale of its online ticketing business Ticket Monster and certain other businesses.
It entered the crowded coupons market in India through the acquisition of SoSasta, which was rebranded as Crazeal (at that time the firm was in litigation with another owner of the Groupon India domain) and then rebranded again as Groupon, all within a couple of years. With Nearbuy it is being rechristened the third time.
Others in the deals aggregation space include Info Edge-backed MyDala, Rocket Internet's CupoNation and Times Internet owned CouponDunia. Once a hot space, it had fallen off investors' radar, barring an odd deal here and there. To that extent Sequoia's investment in Groupon India seems like a contrarian bet.

---