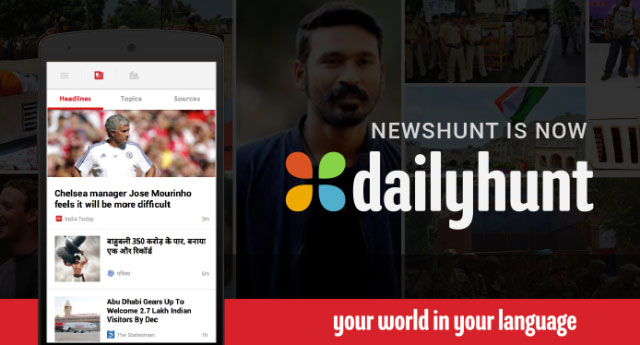 Bangalore-based Ver Se Innovation Pvt Ltd, the company behind local language mobile news app NewsHunt, has changed the name of its flagship to DailyHunt.
About the revamped app under new name, Vishal Anand, chief product officer, Ver Se Innovation, said in a blog post, "It is cleaner with richer viewing experience and with a tonne of new features to help you discover and read articles, books, comics and more."
Started five years ago as an app to bring regional language content to mobile phone users in India, NewsHunt became one of the biggest news and ebooks app in the country. "What started with solving technology problem for local language news has grown into solutions for ebooks, magazines and comics," Anand wrote in his blog post.
With the rechristened app, the company has made its service available to Bhojpuri readers while other languages such as Assamese, Sindhi and Nepali will be added next. Ver Se has taken DailyHunt app to overseas by launching it in UAE and Sri Lanka. The company has so far made content from 100 news publishers across 12 languages including Hindi, Tamil, Malayalam and Marathi available to its users. It also provides news from Bangladesh and some African countries.
It has brought about a new user interface, personalised the news stream by suggesting news, books and videos based on the individual reading behaviour and introduced a tag feature to ensure better access to preferred content and sources. An option to buy chapters of select e-books has also been introduced.
Ver Se Innovation has raised $18 million (around Rs 110 crore) in its Series B round of funding from Sequoia Capital, with participation from existing investors Matrix Partners India and Omidyar Network early this year.
NewsHunt was started as an application for feature phones and was later expanded to smartphones as well. It was launched by former Nokia employees Umesh Kulkarni and Chandrashekhar Sohoni in 2009 was acquired by Ver Se in 2012.
It forayed into ebooks in 2014 and is currently working with around 150 regional and global language book publishers. Ver Se recently acquired Delhi-based Rocket Science Innovations Pvt Ltd, which runs e-commerce price comparison and recommendation platform BuyT.in, for an undisclosed amount.
---