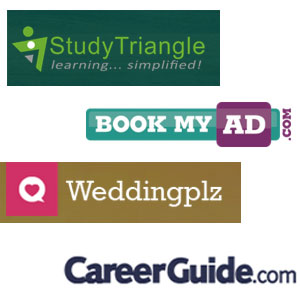 The startup ecosystem in India is attracting the country's brightest minds. High flying corporate executives are no longer shy of donning the entrepreneurs hat. Investors are loosening their purse strings to fund risky ventures. This is probably the best time to be an entrepreneur in India.
Techcircle.in has always played its part in showcasing innovative startups and telling their story to the world.
At Techcircle Startup 2015-Delhi Edition, four promising startups showcased their solutions. These young firms offer services around tuition, ad booking, wedding planning and career counselling.
Here is a quick look at the four fledgling ventures.
StudyTriangle
StudyTriangle.com, owned and operated by StudyMantra Technologies Pvt Ltd, is an online education marketplace for on-demand tuition and real time classes. The startup was launched in June 2015. It offers a learning services marketplace with cloud-based content and workflows management system for K-12 students, professional and vocational needs. It attempts to bridge the infrastructure gap through concepts such as private video tuition, online group studies, recorded tuition, contextual content sharing and so on.
Book My Ad
Run by Essence Digital Pvt Ltd, Book My Ad is an online platform where individuals and enterprises can book print, radio, TV, digital and cinema advertising. The one-year old startup says that advertisements worth Rs 4 crore have so far been booked on its platform. The company claims to have a profit margin of 27-30 per cent on every transaction. Book My Ad counts global brands such as Microsoft, Coke, Skoda & Volkswagen in addition to Indian companies like SBI, cardekho.com, housing.com and Godrej, as clients.
Weddingplz
Weddingplz.com is an online marketplace for wedding vendors. It connects to-be-wed couples and vendors for wedding-related services such as catering, flower decoration, wedding jewellery, music services, parlour services and so on. It also facilitates networking and referrals to find the best options. Weddingplz also integrated services such as local vendor search, couple reviews, upcoming wedding events & exhibitions and vendor deals & discounts for customers. Its wedding planning tools allows customers to create their own wedding website and e-invites. Currently operational in four cities, Weddingplz lists more than 37,000 vendors across 41 categories.
Career Guide
Catalog Educational Services Pvt Ltd, co-founded in April 2011, runs careerguide.com, a marketplace where users can get instant career-related answers from experts. Users can log on to the platform, select the category and the portal will connect them with available career expert who can answer questions. It also records the conversation to rate the expert via a five star rating system. Career Guide targets students between 13 and 22 years, offering career options to job seekers across 500 different career topics. It claims to have over 200 career experts on the platform who have addressed queries from 125,000 students so far. The company aims to reach out to one million students this year.
---