Mauj Mobile eyes premium gamers for new appstore Gamesbond; targets 100M Android game downloads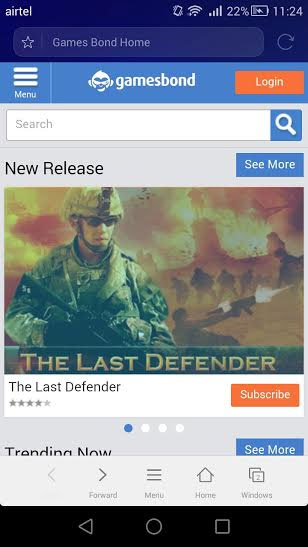 Increasing smartphone penetration coupled with the growing demand for digital gaming has propelled Mauj Mobile to come up with a new appstore for paid games.
Christened Gamesbond, the premium mobile platform will serve as Mauj's second gaming appstore after Mobango (mostly free content), which recorded 11 per cent growth to clock over 100 million game downloads for the year.
"Gamesbond is an premium games platform that delivers monetisation using carrier billing. Gamesbond will be the next critical investment as a consumer destination for Mauj," said Badri Sanjeevi, CEO of Mauj Mobile, a part of Anupam Mittal's People Group.

The company will start inviting top global gaming developers to monetise their games in India and other countries using the Gamesbond platform.
The move is part of Mauj's strategy of doubling Android-based game downloads to 100 million over the next 12 months. Indicating a diminishing user preference for Java-based games, Android game downloads on the Mobango platform increased to 55 per cent from 35 per cent last year, said Sanjeevi, who is also the group CFO of the Rs 350-crore People Group.
Mobango added over 2,200 game developers over the last 12 months, Mauj claims. It houses content from Indian developers such as Indiagames, Nazara Technologies, Naam Studios, Twist Mobile, Hututu Games, AppOn Software and Reliance Games among others.

Mauj, which started off as a mobile value added services (VAS) provider, is steadily morphinginto a three products company. In addition to Gamesbond and Mobango, it also has Appystore, which is a curated app site for children up to six years of age.
Mauj had acquired UK-based Mobango in 2011. After the acquisition, the Mobango platform was tweaked for the Android-based smartphone market.
Mauj gets 20 million unique visitors and one million daily downloads across its products, as per the company website.

The Indian mobile gaming market, one of the fastest expanding in the world, is expected to grow at over 130 per cent to touch $572 million by 2016, as per a research by Newzoo and OneSky. Global research firm eMarketer said recently that India will overtake the US as the second largest market for smartphones in the world by 2016 thanks to the proliferation of low-cost smartphones in the country.
Entrepreneur cum investor Anupam Mittal had started matrimonial portal Shaadi.com in 1996 before forming People Group to look at other opportunities in technology space.
Mauj counts Sequoia Capital and Intel Capital as shareholders. These too hold 30 per cent collectively in Mauj Mobile, which last raised $10 million way back in 2006.

In fact, People Group is looking to raise a large amount in PE funding to bankroll expansion of both Mauj and Shaadi.com, in a deal which would also create a liquidity window for some existing investors, Mittal told Techcircle.in recently.
The combined deal would be worth up to $200 million (Rs 1,280 crore) involving a clutch of private equity investors.
---